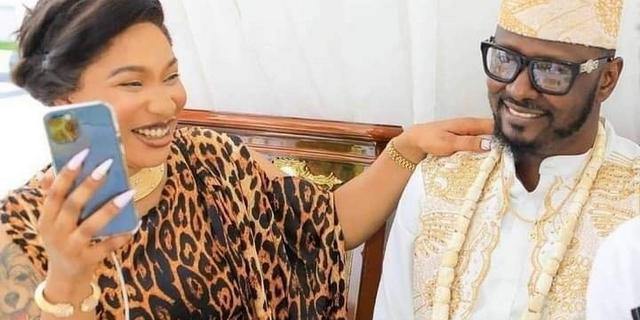 TONTO DIKEH'S CLAIMS SHE HAD NOTHING TO DO WITH EX'S PRINCE KPOKPOGRI DEMOLISHED HOUSE
Read Time:
1 Minute, 9 Second
By Adeniyi Onaara 
Prince Kpokpogri, ex-boyfriend of Nollywood actress Tonto Dikeh, has cleared the air on her role in the recent demolition of his house.
During a meeting with journalist Kemi Olunloyo on Tuesday, May 17, 2022, the self-proclaimed activist made this known via his Instagram Live.
"Actually, I don't want to say anything at all about that girl. I'm not sure what to say. However, the fact is that she had nothing to do with the situation "he stated.
Kpokpogri had previously published an Instagram Live video in which his opulent residence was demolished by the Federal Capital Development Agency (FCDA).
In the video, Kpokpogri claims that someone was behind his trauma, claiming that he was not given any notice before to the destruction.
Dikeh mocked him on her Instagram page just hours after he uploaded the video.
"Anyone who expects me to quit laughing is a stupid idiot." I can't and won't feel sorry for this man. It is his cross, and he must bear it. She stated, "This man almost destroyed me financially, emotionally, and otherwise."
"It would have been two weeks of goodbyes and the world would have moved on if I had committed suicide after he threatened to disclose our graphic recording or even after he leaked the weeping audio." People must realize that karma exists, and I hope this isn't the last time.
0
0
By Adeola Abdullah The Ogun State Police Command has described as fake news rumour going around that bandits kidnapped twenty...