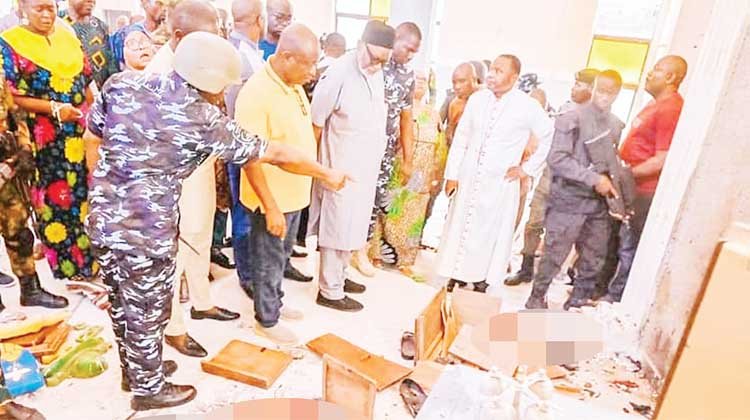 ONDO ATTACK: CONDEMNATION ISN'T ENOUGH, SACK DEFAULTING OFFICIALS – CATHOLIC GROUP ADVISES GOVERNMENT
Read Time:
1 Minute, 54 Second
By Adeniyi Onaara 
Catholics in Politics and Business has urged the government to sack authorities in charge of the country's security.
On Monday, the group issued a statement titled "Massacre in Owo — Condemnation is not enough" by its Chairman, Patrick Okedinachi Utomi.
According to reports, gunmen stormed St. Francis Catholic Church in Owo on Sunday, killing around 30 people, the most of whom were children and women.
"My heart is heavy, but my belief in God makes the burden lighter as I commiserate with the Bishop, the lay faithful in St Francis, Owo, the people of Ondo State and their Governor, and my schoolmate Rotimi Akeredolu, in whose hometown the inhuman carnage occurred on Pentecost Sunday.
"As I attempted to deliver a message to the Shepherd of the flock in this diocese to which I had traveled to offer presentations, both physically and virtually, my heart literally ached."
"I was pleading with God of Purpose to help me find the meaning in this mindless bloodletting that is destroying Nigeria." The expected outpouring of condemnation has arrived from the high and mighty, as it is a heinous act of mass murder of innocent people.
"We must not accept censure as a sufficient response. It's time to stop. People must be held accountable, penalties must be imposed, and future deterrent must be implemented. If we were typical, we would have had a couple resignations and firings by now.
"More importantly, all serious politicians should seek out opportunities to talk about how we live together." Progress is preceded by peace and justice. It's as if you've gone back to the Stone Age if you don't have either.
Our country is at war with itself. In Nigeria, more people die every day than in the Russia-Ukraine conflict in a month. It has to come to an end. Every politician who does not demand real participation in determining how we move forward undermines his mandate.
It's time for the Holy Spirit's promised Peace, which the faithful experienced on Pentecost Sunday. I pray for the souls of those who have perished, as well as for the gift of fortitude to be given to family and friends of those who have died. May the Lord's pleasure be the source of all power in your life.