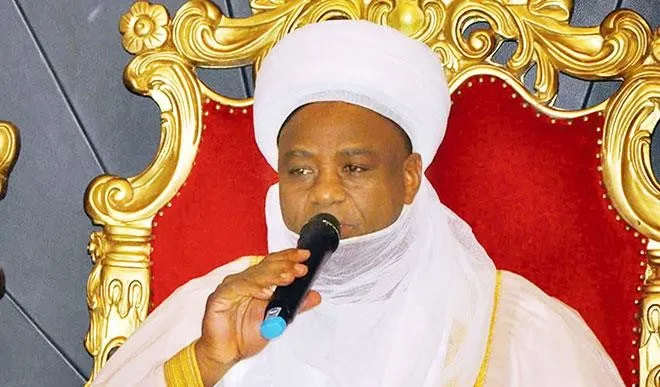 SULTAN OF SOKOTO: OWO MASSACRE WAS AN ATTACK ON HUMANITY, RELIGION, AND A GRAVE SIN
Read Time:
1 Minute, 27 Second
By Adeniyi Onaara 
The Nigerian Supreme Council for Islamic Affairs (NSCIA) has denounced the Sunday attack in Owo, Ondo State, on innocent worshippers.
His Eminence, Muhammad Sa'ad Abubakar, President General and Sultan of Sokoto, denounced the attack as a crime against humanity as well as a severe and unfathomable sin.
On Sunday, gunmen raided St. Francis Catholic Church in Owo, Ondo State, killing over 50 worshipers and injuring several more.
The Sultan of Sokoto, in a statement issued by his Director of Administration, Arc. Zubairu Haruna Usman-Ugwu, urged governments at all levels to pursue and issue an ultimatum to security services to unravel the criminals' identities.
The incident was condemned by Nigeria's top Muslim leader, who claimed the culprits violated the sanctity of not only life but also religion.
"All peoples of faith, particularly believers in God, should regard this onslaught as a direct attack on all law-abiding individuals and should thus be in the vanguard to stop the evil that looks to be assailing humanity's life, property, and integrity," he stated.
He did, however, call on security agents to assist in the rescue of the helpless citizens "that we have all become," and to heed the Qur'anic call that: "…For if God had not checked one set of people by means of another, monasteries, churches, synagogues, and mosques, wherein the name of God is persistently mentioned, would surely have been destroyed." Verily, God will help those who help His (Cause). Truly, God is All-Strong, All-Mighty. (Q 22: 40)."
The Sultan of Sokoto has expressed his complete support with the Christian Association of Nigeria (CAN), the Catholic community, the government, and the people of Ondo State, as well as his condolences to the victims' families.