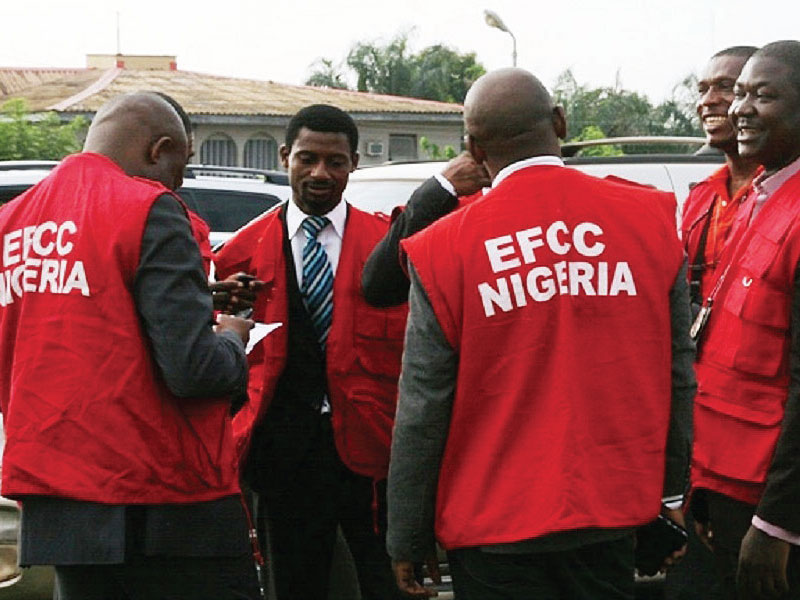 EFCC CHARGES TWO BANKERS FOR N20 MILLION THEFT
Read Time:
1 Minute, 51 Second
Two bankers, Freeman Jacob and Umar Abdullahi, were charged with three counts of conspiracy and theft by the Economic and Financial Crimes Commission on Tuesday before Justice Simon Akpah Amobeda of the Federal High Court in Kano.
For collaborating with the pair in 2020, the commission also filed charges against Ahmed Bashir and Abdulhakim Musa (also known as Gandu).
The defendants allegedly coordinated with one another, according to the commission, to create an ATM card in Alhaji Sani Muntari's name.
They utilized the same method to steal N20,000,000 from his bank.
One of the charges reads, "That you, Freeman Austin Jacob, Umar Abdullahi, sometime in February 2020, at Kano within the jurisdiction of this Honourable Court, connived with Ahmed Bashir and Abdulhakim Musa to prime and issued Automated Teller Machine card" from a commercial bank account number belonging to one Alhaji Sani Mutari without the knowledge or consent of the said customer and thereby committed an offence punishable under Section 14 (7) of the Cybercrimes (Prohibition, Prevention, Etc,) Act, 2015.
The third defendant, Bashir, stole the account holder's SIM card, which the defendants used to create an ATM card with the assistance of the first and second defendants.
Additionally, the third defendant, Ahmed Bashir, and his acquaintance, the fourth defendant, Abdulkarim Musa, were linked to some of the theft's earnings through the inquiry.
All of the accused, however, entered a not-guilty plea.
Aisha Tahar Habib, the prosecution's attorney, asked that the defendants be remanded and begged the court to set a time for the trial to begin.
The prosecution attorney objected to the defense attorney's oral bail application for the first and second defendants on the grounds that it should have been formal.
L.A. Umar, who represented the fourth defendant, informed the court that she would like to request formal bail and asked for a date to do so as well as to serve the prosecution.
Justice Amobeda agreed with the prosecution that bail requests should be presented properly because the court is a court of record after hearing the parties' arguments.
He then remanded the defendant and postponed the case to June 26, 2023, when bail applications would be heard and the trial would begin.