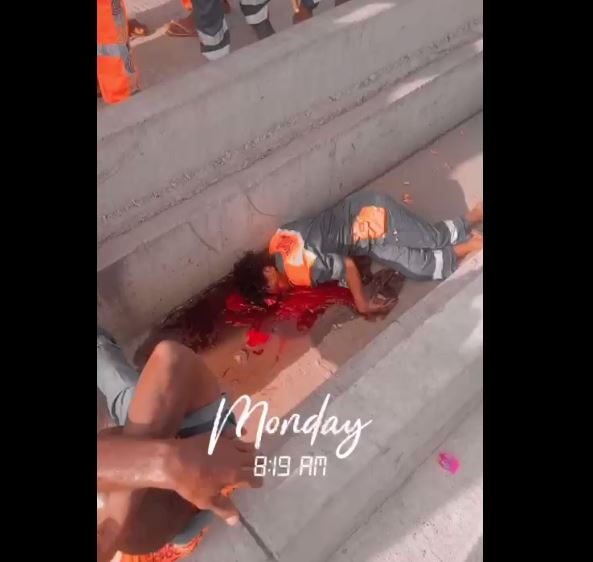 UPDATED: DRIVER FLEEING LASTMA KILLS TWO LAWMA WORKERS IN LAGOS (VIDEO)
Read Time:
1 Minute, 35 Second
By Oduola F.A.
Two street sweepers working with the Lagos State Waste Management Authority (LAWMA) have been killed after being hit by a vehicle evading arrest by traffic officials around Charly Boy Bus Stop, along the Gbagada – Oworonshoki Expressway, in Lagos.
The victims who were going through there usual job on the Ikeja road were said to have met their fate when the driver of the black Honda car, who was fleeing from officers of the Lagos State Traffic Management Authority (LASTMA), ran into them, killing them in the instant.
A viral video taken by an onlooker shows the bodies of the victims lying in pools of their own blood and the car hanging over a drainage.
Security agents including policemen have since arrived at the scene and tear-gassed protesters in an attempt to disperse them and quell the situation.
Meanwhile, LAWMA confirmed the death of the two sanitation workers in a statement on Monday.
"LAWMA is working with security agencies to apprehend and prosecute the errant driver of the car, with vehicle number EPE 984 DV," the statement read.
"We wish to appeal to motorists for the umpteenth time, to drive with utmost caution on the highways, to avoid sad incidents like this happening to our sanitation workers or anyone in the course of their legitimate duties.
"The public is urged to remain calm as appropriate steps are being taken and necessary measures put in place.
"Our heartfelt condolences go to the families of the deceased, whom we love most dearly. May their souls continue to rest in peace."
See videos below: