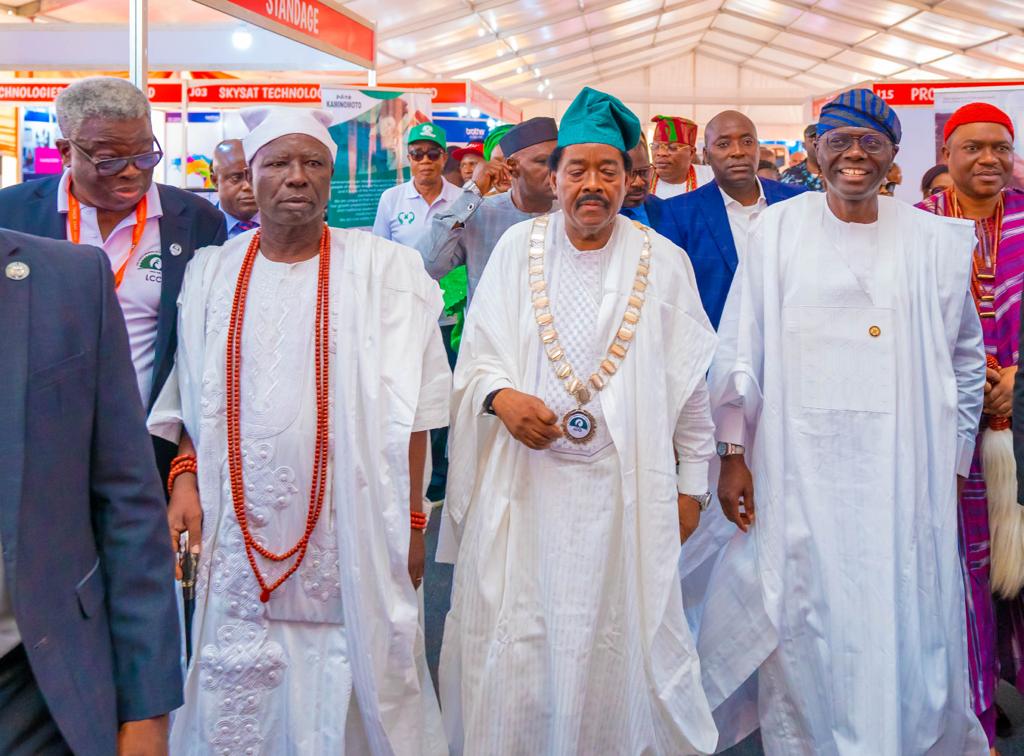 2022 LAGOS INTERNATIONAL TRADE FAIR: LCCI HAS STRONG CONFIDENCE IN THE NIGERIAN ECONOMY – MICHEAL OLAWALE-COLE
Read Time:
7 Minute, 23 Second
By Aishat Momoh .O.
….. Lagos State Government will  Priortize MSMEs development – Governor Sanwo-Olu says
….. Federal Government will continue to ensure that the atmosphere is right for businesses, especially manufacturing and export to thrive says President Buhari
The Lagos Chamber of Commerce and Industry, has said it has strong confidence in the Nigerian economy and believes that Nigeria will meet the growth target for this year.
This was mentioned by the President of the LCCI, Asiwaju Dr. Micheal Olawale-Cole, while he was giving his opening remarks at the opening ceremony of the 2022 Lagos International Trade Fair on Friday at the Tafawa Balewa Square, Lagos Island.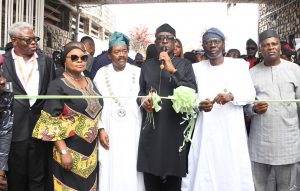 While speaking at the fair, he stated that the LCCI's trade fairs, specialized exhibitions and several business events are some of the many ways the industry supports trade and commerce in the economy adding that LCCI is committed to the vision of the current administration in respect of economic diversification and self-reliance.
He said, "The economic conditions have been challenging even as the economy sustains recovery from the Covid-19 pandemic and now navigating through the shocks from the Russia-Ukraine war, and recently climate change shocks in the form of devastating floods across the country.  While the Nigerian economy has recorded some impressive growth figures this year showing a sustained recovery of the economy, there are heightening fears of recession, food insecurity and more climate change impacts. As investors, we need to continue to demonstrate our resilience and determination to forge ahead despite these challenges.  As a chamber, we have strong confidence in the Nigerian economy, and we believe we would meet our growth target for this year. The LCCI's trade fairs, specialized exhibitions, and several business events are some of the many ways we support trade and commerce in the economy. "
"We recognize the imperative of non-oil sector development and the need to add value to our primary products in order to improve earnings for both the public and private sectors of the Nigerian economy. This trade fair provides a platform to identify non-oil alternatives and highlights the significance of value addition. The trade fair equally serves as an avenue to boost economic and commercial activities"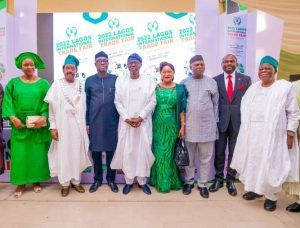 "We commend the recently launched Special Agro Industrial Processing Zones (SAPZ) Programme, by the Federal Government and supported by the African Development Bank (AfDB), the Islamic Development Bank, and the International Fund for Agricultural Development, as co-financiers. The SAPZ is expected to mobilise private sector investments to develop value chains for selected crops and livestock starting with the eight participating states. We look forward to an increase in export trade of agro-processed products across the continent and boosting intra-African trade under the Africa Continental Free Trade Agreement (AfCFTA). He mentioned"
Olawale-Cole added that, this trade fair provides a platform to identify non-oil alternatives and highlights the significance of value addition while, stating that the trade fair serves as an avenue to boost economic and commercial activities.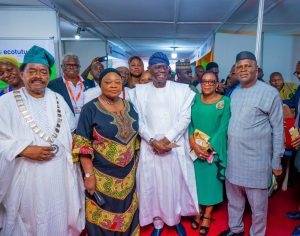 He however, thanked the major sponsors of the 2022 LITF for their support in making the Lagos International Trade Fair a flagship legacy of  the Lagos Chamber.
Meanwhile, President Muhammadu Buhari, in his remarks which was delivered by Otunba Niyi Adebayo, the Honourable Minister of Industry, trade and Investment, said that Federal Government will continue to ensure that the atmosphere is right for businesses, especially manufacturing and export to thrive while adding that, the essence of the trade fair is to connect people and businesses in order to create value.
Also, he mentioned that the businesses that will be showcased at the fair will portray the realization of the action plan of his administration.
He said, " We all know the important role that trade plays in stimulating our economy and driving sustainable development. Through increased trade, our goals of job creation, GDP growth, increased foreign exchange earnings and reduced insecurity are actualised. The development of export trade takes this a step further and helps our nation reach its economic diversification goals."
"As you are aware, Nigeria has signed and ratified the agreement establishing the African Continental Free Trade Area (AfCFTA). This agreement will dramatically boost intra-African trade and is expected to deliver an integrated continental market, consisting of 1.3 billion consumers.  This is a great opportunity for Nigeria. Our international trade is currently doing well with trade surplus between January and June of 2022 in excess of N3.2 trillion. AfCFTA however gives us the opportunity to do so much better!"
"To do better the public and private sectors must work together; The private sector can help boost the demand for Nigerian products by aggressively pursuing value addition and increasing the quality of exported goods originating from our country. This trade fair is a great opportunity to showcase Nigeria's capacity to produce to international standards and also to export.
The public sector will continue to drive investment into infrastructure development, encourage access to low-cost financing and provide fiscal incentives to companies wishing to manufacture products for sale. These incentives include: three to five-year tax holidays for enterprises in what we deem pioneer industries; tax-free operations and capital allowances for agriculture, manufacturing and engineering within our free trade zones."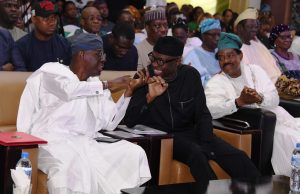 He also said that, the Federal Government has taken much-needed steps to improve the trading environment, some of which include creation of Special Economic Zones, funding support through the Central Bank of Nigeria (CBN) and the Bank of Industry (BOI), grants on Fiscal Incentives to businesses, across multiple sectors, through the Federal Ministry of Finance, Budget and National Planning.
Meanwhile, the Governor of Lagos State, Babajide Sanwo-Olu expressed his excitement when he applauded the efforts of the leadership of LCCI for bringing together  its members, who remain the fulcrum of business in Nigeria promising that, the Lagos state government will prioritize MSMEs development.
He also, commended the efforts of the Chamber in helping businesses develop from their conceptual stage into successful organizations stating that the costs of sustaining enterprises are tough and require great tenacity.
He said, "I cannot agree less with the intent and purpose of this theme. Given the prevailing economic certainties, networking and value addition are important tactics that can be used by businesses, both small and large, to connect with others, acquire and retain customers, increase brand awareness and differentiate their places in the market, if they intend to stay competitive in the long run."
"There is no gainsaying that most of the businesses that will be participating in this Fair are Micro, Small and Medium Enterprises, MSMEs which are the bed rock of sustainable development in most global economies. In Nigeria, this sector is the heart beat of our industrial and economic development and in Lagos State, MSMEs have significantly contributed to employment creation, value addition, income generation and appreciable poverty reduction. Therefore, there is no doubt in my mind that MSMEs are crucial to our economic growth and stability, in achieving the Sustainable Development Goals, particularly in the promotion of creativity and decent work for all."
"As a Government, our administration's priority is the business sector, with particular focus on MSMEs. With a population of over 22 million, Lagos is the 5th fastest growing city in the world, which is why it is an investors delight. Lagos accounts for over 25% of the National Gross Domestic Products, (GDP), and 65% of Nigeria's industrial and commercial activities. Therefore, it is imperative to formulate and implement policies, programs and projects that would propel the State to a globally competitive economy."
"I must not fail to acknowledge that the staging of the annual Lagos International Trade Fair, has become a component of the trade architecture of the State, having become a household event. I look forward to seeing high traffic of human, goods and vehicular movements within and around the Trade Fair Complex, with the attendant increase in commercial activities during the 10-day event."
"Let me further assure you that we shall not rest on our oars until business prosperity is guaranteed. This is because our administration is not oblivious of the fact that for us to achieve our dream of becoming Africa's model megacity by 2025, we must continue to improve our business climate so as to attract more private sector investments, create jobs and increase productivity."
However, the Chairman, Trade Promotion Board, Engr. Leye Kupoluyi, while speaking thanked all the patrons, Sponsors, partners and exhibitors for their support, friendship, cooperation and understanding over the years in making sure that the legacy is sustained.
He said, "In our quest to sustain this legacy project, we have found loyal patrons, sponsors, partners, and exhibitors to depend on over the years. Every year our list of sponsors is stretching to include the biggest brands in Nigeria today. We deeply cherish this friendship, cooperation, and understanding."