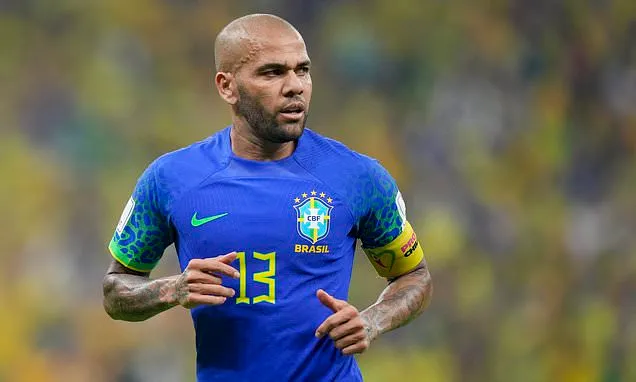 DANI ALVES ARRESTED AND QUIZZED OVER ALLEGED SEXUAL ASSAULT
Read Time:
1 Minute, 31 Second
Brazil international Dani Alves has been arrested by police in Barcelona and taken to court for questioning after being accused of sexually assaulting a woman at a local nightclub.
The footballer admitted he had been at iconic city nightclub Sutton late last month when the alleged sex crime occurred.
But he protested his innocence in a Spanish TV interview after a court confirmed it had opened a formal investigation, insisting: "I don't know who this lady is. I don't know her name, I don't know her, I've never seen her in my life."
Today the former Barcelona defender, now with Mexican side UNAM Pumas, was arrested at an undisclosed location and taken to a police station in the neighbourhood of Les Corts to make astatement.
According to overnight local reports, the 39-year-old, who last month made history by becoming the oldest Brazilian to play in a FIFA World Cup, would be arrested and fingerprinted as part of routine procedure before being questioned and taken to the court probing the alleged sexual assault for a further quiz.
A spokesman for the regional Mossos D'Esquadra confirmed: "A man accused of an indecent assault at a nightclub in Barcelona late last year has been arrested.
"He has now been taken to court after making a statement to police.
"It will be up to the court now to decide what measures to take."
The charge of sexual abuse in Spain can mean anything from unsolicited and unwanted sexually groping to rape. Police said they could give no detail on the case.
A court official confirmed 10 days ago: "Barcelona Court of Instruction Number 15 has opened proceedings over an alleged crime of sexual assault following a complaint filed by a woman against a footballer.
"The incident allegedly occurred at a nightclub in Barcelona in December."