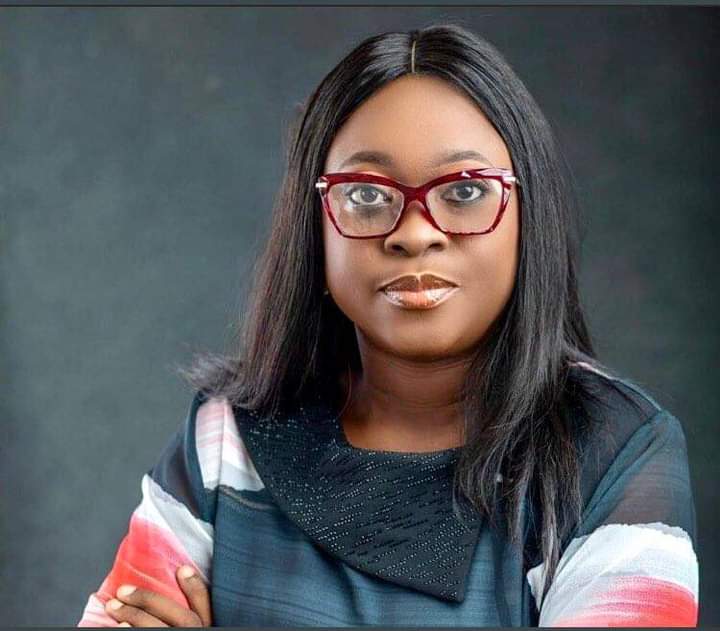 OMOBOLANLE RAHEEM: "GBENGA, THE BULLET HAS ENTERED MY CHEST" – VICTIM'S SISTER RECOUNTS SAD EVENT AS KILLER COP'S TRIAL CONTINUES
Read Time:
18 Minute, 56 Second
By Aishat Momoh. O.
Enema Titilayo Falilat, the fifth Prosecuting witness and sister to Omobolanle Raheem, a Lagos-based lawyer that was allegedly killed by a police officer on Christmas day has testified against Drambi Vandi at the Lagos State High Court sitting at the Tafawa Balewa Square (TBS), on Thursday.
While recounting what she saw, she insisted that the trigger-happy officer, killed her sister and also pointed his gun towards her.
She also told the court the last words of the lawyer, after she was allegedly shot, "Gbenga the bullet has entered my chest," she said.
Mrs. Titilayo also, narrated in her testimony during the trial of the Assistant Superintendent of Police (ASP), that he tried to escape but she was able to drag him to sit next to her dying sister
The deceased's husband Gbenga Raheem and Enema are the third and fourth prosecution witnesses of the Lagos State Government, which is prosecuting the case.
The state, on January 16 began Vandi's prosecution for the alleged murder.
Attorney-General (AG) and Commissioner for Justice, Mr. Moyo Onigbanjo, SAN, arraigned Vandi on a one-count charge of murder.
"ASP Vandi on the 25th of December 2022 at Ajah roundabout along Lekki-Epe Expressway Lagos in the Lagos Judicial Division unlawfully killed one Omobolanle Raheem (F) by shooting her in the chest," it read.
Vandi pleaded not guilty.
At the resumption of proceedings on Thursday, the deceased's sister, Titilayo Enema was led in evidence by Mr. Onigbanjo.
She said; "My name is Eneman Titilayo Falilat, I live at Ikorodu. Bolanle Raheem Basirat was my elder sister, the first daughter of my mum.
"On the 25th of December, 2022. She woke up in the morning and told me to prepare chicken and chips for her. She said we were not going to The Redeemed church because they were having a service at the Teslim Balogun Stadium and it was very far.
"She said we would be going to a nearby church, Word Assembly Church, that would begin service at 9am."
The witness explained that after the service, they drove to a supermarket and later a pizza joint where they bought ice cream, water, yoghurt and pizza for the couple's daughter and themselves.
She continued: "We left there around 12pm back to the car. I was sitted right behind her with the children at the back. My sister was talking to the husband that they should withdraw money from a POS agent to give the security men at the estate but the husband said they will withdraw from the bank.
"We saw the officers at the roundabout once you make a U-turn to Abraham Adesanya. We passed the first officer, then the second one shouted 'Stop! I said you people should stop!.' I don't know if the first one signalled to the second one. They knew that we could not just stop and go and park.
"All of a sudden, I was looking at the police man, I saw him pointing the gun. We had passed the one that said stop. Immediately, I heard a sound I thought he just used the gun to hit the window. I saw him carrying the gun.
"The next thing my sister said, 'Gbenga the bullet has entered my chest, Gbenga.' She said it twice. Immediately she said that, her neck just dropped and her tongue came out", the witness said in tears.
"I shouted, 'Mummy Semilore! Mummy Semilore!' immediately I ran out of the car and went to grab the policeman, and said 'You just shot my sister.' The policeman carried that same gun and said, "I will shoot you".
Titilayo claimed that the defendant was the one who shot at her sister and also pointed his gun at her.
She added: "After he said that, I was afraid, there were not so many people there. Later two boys came out and said I should hold him well, that was when I built courage and held him well. Then I said, that same gun you used to shoot my sister you will use it to shoot me.
"I dragged him and said he will sit near my sister whom he had shot. I saw my brother in law rolling on the floor. I thought he will come and help me. I could not shut the door.
"The defendant tried to get into the police van but I said he will not go because he just shot my sister. When I dragged him out of the patrol van he tried to enter a korope, the heel I wore was disturbing, I cut it off and jumped in with him.
"I told the area boys there to help me take a picture of him because my phone was in the car with my children.
"By the time I was able to get him to sit with my sister in front, my brother in law zoomed off and left me at the spot. I then begged the area boys to please follow me to the hospital because they were the only ones with the evidence. We boarded another korope and we followed the venza. We missed the car and I could not reach my brother in law because my phone was in the car. Those guys dropped me at the police station.
"They said I should shout, when I get to the police station so that I will be attended to on time. I shouted help me! help me! where is the DPO? When the DPO came out, I told him one of his boys has shot my sister, he said where, I said that roundabout. Then I called my husband.
"We went to the nearest hospital to look for her, they said truly they came but they left to another.
"When I got to the estate I saw my sister's husband new venza, I rushed to the car and saw blood stains at the front and back seat. I asked for my sister and he could not answer. Later he said, Fali( that is what they call me) let us go to the hospital, he was driving slowly. Her wig and glasses all stained with blood were in the car.
"On getting to the station with my husband and brother in law, I told the DPO that can you see what your men has done on Christmas day. The husband was calling people from the Estate to tell them what happened. The police said they have taken my sister's body to the mortuary at Yaba. I said from Island to Yaba. Her husband and mine started shouting that we need to see her. I told them not to put her in the morgue. When we got to the morgue, I saw my sister on the floor, I held her hand and it was cold, her ring was stiff. I placed a prayer handkerchief on her and we were praying, some pastors followed us too. I told my mother not to cry that she will wake up but one day became one week."
The witness stated that they did not at any point threaten the policemen. "There was no conversation at all, our glasses were wound up. The area was peaceful on that day, on normal days the place is always rowdy, she said.
She further stated that she didn't write any statement with her hands, that the police asked her questions and she replied then she was asked to sign.
During cross examination, defense counsel, Adetokunbo Odutola, asked for her educational qualification which she said possessed a Nigeria Certificate in Education (NCE), he also asked if she wrote the statement with her hands and if it was her signature that was on the statement, she said yes. The statement was made around 5.30pm, she said.
Her statement was admitted in court as exhibit 5.
Odutola also asked, did you see him pull the trigger and shoot? Did you see the bullet come out from the gun?"
The witness replied: "I saw him facing us with the gun. I saw him carrying the gun, facing us and I saw the bullet come out from his gun.
"When he was being questioned by the DPO, he could not say anything. When I got home, the children said they heard him say "what have I done?".
Mr. Raheem was also led in evidence by Onigbanjo.
He stated that he was in shock at the moment of the incident and did not see the defendant shoot his wife but his sister-in-law did and he also saw the defendant point a gun at her.
Gbenga said; "My name is Gbenga Raheem, a property developer in Lagos. I live at Lekki Gardens Estate at General Paint, Abraham Adesanya, Ajah.
"Omobolanle Raheem was my wife, we got married about 10 years ago. On the 25th of Dec, 2022, Christmas day, the whole family woke up to a surprise gift I had given everybody because I had gone out the previous day to get gifts. The children woke up to their gifts under their pillows. And for my wife, I wrapped a set of Jewelry and put it by her side. She woke up that morning very glad. Though she was pregnant, we had an intimate moment that morning because she was very glad. After that, we had light breakfast in the morning with the Children.
"After we finished, we went to a nearby church with the new car she was gifted the Friday before the Chistmas Sunday. A Property developer gifted her the car because she had met her target. She was a very hardworking woman. The car was a Toyota Venza.
"Normally, we go to RCCG Ikoyi on Sundays, but on that particular Sunday, our own Church, had a general program at Surulere called Go-A-fishing. So we decided to go to a nearby church which was where we got married.
"The headquarters is located beside Lagos Business School Ajah and my wife was close to the founding Pastors. They were part of the people that brought her up spiritually when she was growing up and they also had just lost a son. So, my wife went to greet them after service. When she finished greeting everyone, we left. My wife decided to take everyone out for pizza.
"We bought ice cream, yoghurt and pizza then we went to Dominos Pizza towards the Ajah Bridge direction. We ate the Domino pizza and ice cream there, not takeaway. From there, we went towards Ajah Bridge to do a U-turn. As I did, I saw police officers ahead of me. I don't really know how many of them were there.
"I kept going, following the car in front of me then the car slowed down, so I went to its left and overtook the car. There was an officer on my left who said I should park. While I was trying to park because he was actually following me, all of a sudden I just heard a loud sound on my wife's side of the window. The window got smashed and I saw blood on her chest. I quickly parked to the right and ran out of the vehicle.
"My sister in law, Titi who was sitted directly behind my wife with the five children and at the back also ran to the police officer. We ran to meet the officer, he was the only one I really saw. I didn't see the others because he was the same person who raised a gun at Titi and made a conscious effort to identify him.
"I was devastated, holding my head seeing blood on my wife's chest, my life crumbled. Then I remembered the boys in the area shouting that we should block the road in other to raise alarm and let people know what the police had done.
Can you recognize the police officer, if you see him?
Yes, I can.
He was asked if the defendant in the box is the police officer and he said he looks like him.
He looks like him or he is the one?
"He is the one that shot my wife, he affirmed.
"Titi grabbed the officer who shot my wife and started shouting 'you have shot my sister, you have killed my sister as she pushed him to the front seat where my wife was seated.
"At that time my wife was still conscious, I sped off with the car forgetting that Titi had not boarded the car. I left her there.
I ran to take her to the hospital. The officer was sitting at the front seat with my wife.
"When we got to Abraham Adesanya we did a U-turn there. we got to the first hospital Budo hospital, I carried her inside, I was shouting please help help, emergency, my wife has been shot. I carried her into one of the emergency rooms upstairs, one of the doctors came and said he could not handle that matter there. He then said we should take her to the next hospital which was Doren hospital.
"At Doren hospital, I asked for the emergency room, I shouted for help. The doctor asked what happened and I told him my wife was shot and the police were aware. I don't know how the defendant didn't follow me to the hospital, I only know he helped me put her in the car at Budo hospital.
"I begged the doctor to please help save her life that my wife is pregnant.
They brought oxygen and placed it on her nose, then they brought cotton wool for her chest to absorb the blood.
"She tried to pray but the doctor said she should not talk. later she said, she can't breathe, she can't breathe. After a while the doctor said we needed to take her to another hospital at Grandville VGC.
When they brought the oxygen cylinder I pleaded with them to save her, I went to my car to pick my phone and showed them my account balance that money is not the problem, they should just save my wife.
"When they said we needed to take her to VGC, I said okay let's go, where's the ambulance, when they went to get the ambulance, they said the driver is not around, I told them to give me the key that I can drive the ambulance, they said the driver is with the key.
At this point I noticed my wife was getting weak, I told them to help me carry her into my car and begged the doctor to follow us because at that point, they had started pressing her chest. So when the doctor did not want to follow because according to him, he was the only doctor on duty, I asked him to give me a male nurse who was there and I tried to push the nurse into my car and he said I was harassing him, which was true. When I saw they were not going to come along at all, a Police van had come to Doren, I told them we were told to go to Grandville hospital.
"I left Doren to go to VGC with the police officers who followed in their van. we got to VGC, they didn't tell me exactly where, I thought the security will direct me to where it was located. They directed me to the hospital, when I got there it was on the other side of the road. We had to go out again to the Express(way) and the police van still followed behind. When I got to Grandville, I ran out of the car and shouted emergency. A lady doctor came out, I thought they will rush her in but instead they started checking for pulse, It was then she discovered that she had passed on. I was shattered. I couldn't talk again and the police carried her by themselves into their van. I looked at her lifeless body at the back of the van and said my wife is gone.
"It took me a while to put myself together because everything was over. The police said they needed to take the body to the island that I should follow them.
I now tried calling Titi to know her whereabout and to tell her what had happened and to ask if the children were fine and to take them home because the police had asked me to follow them with my wife's body.
"I could not reach her, I asked the police men where my children were, they said they are fine, I said, "where are they?"
"When they could not give me a clear answer. I told them to give me an officer who will be coordinating with me because at that point I was weak.
"They took few minutes to deliberate on what to do but I insisted I needed to know the children were fine before I go with them, we now agreed that I should go and sort out the children and meet them at the police station, so I left them. At this point, I had no strength in me and was driving very slow. I went towards Ajah. when I descended one of my neighbours who stays very close to my estate saw me and was honking at me Baba G how far, but I could not respond. I was so shattered, I had no strength in me.
At this point he knew something was wrong because I was just going slowly, when I got to Podo hospital, I parked and he also parked. He screamed and said what happened. I told him. the children are at Podo that he should just help me take them to the house. The staff of the hospital still recognized me because my clothes were stained with blood. I asked where my children were, they said they were upstairs and I told them to bring them down, so we crossed again to the other side of the road.
"I told him that I was going to get my charger since I did not know how long I will be at the police station and I told him to drive slowly so I can get back to the house and pick up the charger before he gets to the house with the children.
"When I got home, I saw my sister-in-law, she asked where everybody was and I could not answer her, I went upstairs to take my charger. I told her the children were coming that she should take care of the children.
"As I was about leaving for the station, I told my sister-in-law and her husband what had happened briefly that my wife had died and that I was going to the police station. I saw them at the gate of the main express. Then they followed me to Ajiwe police station, we got there and they took us to the DPO's office. Later on they said I needed to come write my statement, so I wrote on everything that happened. My neighbors in the Estate came to the station also.
Onigbanjo asked, "Did you threaten the life of the policemen you saw?
Not at all, he said.
Did your sister-in-law threaten the policemen?
"All the windows were up, so we didn't have any interaction with them, Gbenga said.
"As you approached the checkpoint before your wife was shot, was there any form of unrest going on?
"There was no unrest whatsoever, everything was normal before we got there".
As you heard this sound, and you saw blood all over your wife, was there any damage to your car?
"Only the side window was smashed".
You said you had made a U-turn, was he the first officer that flagged you down? Odutola asked during cross examination
"There were not exactly at the U-turn but further after the U-turn. After I passed the first officer, the second officer on my left said park! park! While he was still telling me to park then I saw the other window shattered and saw blood on my wife's chest so I quickly parked to the right.
Can you tell the court where the defendant was?
When I parked I came out of the front, Titi came out of the back and then we went to the back where we came from and he raised his gun. He came towards us, I didn't really see the other officers come towards us.
"That was when people were saying, do not let them go o, block the road o, block the road o".
When the second officer told you to park, did you see any other officer in front of you.
"No, I was concentrating on the one on my left.
Did you see any of the officers pull the trigger or shoot at your wife? Did you equally see the defendant shoot at your wife or pull the trigger at her?
"The reason I did not see him was because I was focused on the officer who told me to park. At least I saw him raise his gun at my sister in law as we alighted from the car. I took caution not to aggravate him more.
Defense counsel, Odutola said, "I put it to you that that bullet must have come from someone else around and not from him.
While Gbenga replied, "with all due respect, please be sensitive to this matter because it is my wife that died.
The defense counsel said, "We are trying to bring out the truth so as not to erroneously accuse the innocent."
The witness is here to say what he saw not what he thinks, Onigbanjo objected.
How many minutes did it take to go from hospital to hospital, asked again Odutola?
"Not more than forty minutes. we spent the most minutes in Doren. From the hospital down to when I got to police station was about thirty to forty minutes.
Which totals about one hour."
She dragged him to the front seat, was the defendant with his gun?
My concern was for me to save my wife, so I can't say I saw him with his gun.
Can we say your sister-in -law disarmed him?
No, she did not. Although I took caution but she was bold enough.
Can you recall that you also made a written statement?
Yes sir, he responded.
The statement dated December 27 was admitted in court and marked as exhibit four.
Justice Ibironke Harrison further adjourned till February 1st and 2nd, 2023 for continuation of trial.