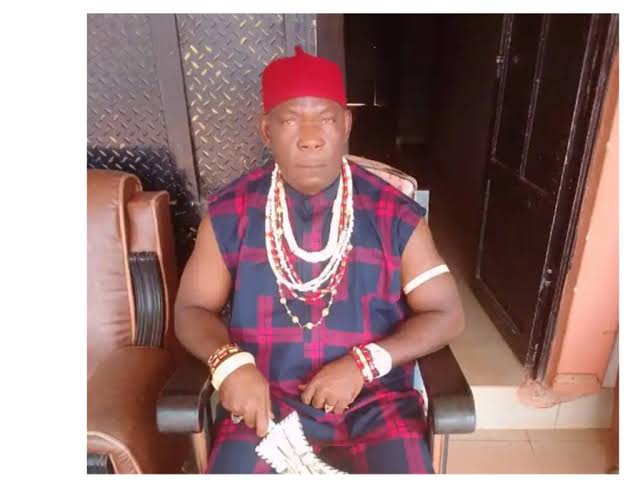 YORUBA COUNCIL COMMENDS DSS OVER ARREST OF EZE NDIGBO IN LAGOS
Read Time:
6 Minute, 28 Second
– Calls For Immediate Abolition of All Eze Ndigbo Titles 
The Yoruba Council Worldwide has commended the Department of State Services (DSS) and the Nigeria Police Force (NPF) over the arrest,in Lagos today, of the Eze Ndigbo of Ajao Estate, Fredrick Nwajagu.
In a viral video, Nwajagu, on Friday vowed to invite members of the proscribed Indigenous People of Biafra (IPOB) to Lagos to secure properties of Igbo people in the state.
Nwajagu, in a 49-second video shared on Twitter on Friday, said the move became necessary in the wake of attacks on some Igbo people in the state.
The Igbo leader said he stood by his words, insisting that his people must take a stand in Lagos.
"IPOB, we will invite them. They have no job. All of the IPOB will protect all of our shops. And we have to pay them. We have to mobilize for that. We have to do that," Nwajagu said.
"We must have our own security so that they will stop attacking us at midnight, in the morning, and in the afternoon.
"When they discover that we have our own security, before they come, they will know that we have our own men there."
"I am not saying a single word to be hidden. I am not hiding my words; let my words go viral. "Igbo must get their rights and get standing in Lagos State."
The Eze Ndigbo of Ajao Estate was arrested by a combined team of police and DSS in the early hours of Saturday.
A police source revealed that the team stormed his palace but he fled; he was eventually traced to a hotel in Ejigbo and arrested at 1:00 am., and he is currently in the custody of the DSS.
In reaction, the Yoruba Council Worldwide commended the DSS and the NPF over the arrest of Nwajagu.
In a press release signed by Aare Oba Oladotun Hassan, the President of the Council, he also called for the immediate abolition of all Eze Ndigbo titles.
"The Yoruba Council Worldwide is aghast over the demeaning treasonable and felonious statement made by one Lagos Eze Ndigbo of Ajao Estate Fredrick Nwajagu calling on the dreaded terrorist IPOB's spiral attacks on the good people of Yoruba Land, specifically our peace loving Lagosians.
"This came few days  aftermath of Chief Emmanuel Iwuanyanwu's earlier vituperative declaration call for simultaneous merciless dealing with the Yoruba people in Lagos State.
"We are reiterating on various causative agents of terrorism led by the Labour Party (LP) Lagos governorship candidate Mr.  Gbadebo Chinedu Rhodes-Vivour who made similar spurious statement of burning down Lagos: "if tonight Lagos catches fire, it is not our fault" this was made immediately hours after voting  on the 18th March, 2023 Guber and State House of Assembly elections.
"Leveraging on all this treacherous misleading statements as a grand  conspiracy ploy, inevitably this are negative symptoms of hate-speech and drumbeats of war mongering.
"Based on this premise, while commending the swift arrest of Mr Frederick Nwajagu, we implore the joint team of Police and DSS to swoop and extend their dragnet invitation and arrest to all the aforementioned cohorts.
"We anticipate immediate action by the Commissioner of Police over a pending petition submitted by the Omoluabi Coalition Group led by Tunji Balogun at the Lagos State Police Command Headquarters, Ikeja since 16th March, 2023.
"Alas, fanning embers of war is highly uncalled for in this very critical point in time, in which consequences of such ill-motivated actions can be dire.
"We hereby appeal to all Security Agents and other local vigilante security apparatus and groups to ensure 24/7 dusk to dawn surveillance and watertight security measures, inorder to forestall any form of vexatious breakdown of law and order by any person parading themselves as members of the IPOB terrorist organization or any other like Union or Association.
"We cannot tolerate any frustrated disgruntled terrorist elements to turn Lagos into chaos by wrecking devastating riotous violence and anarchy.
"Election has come and gone, what is sacrosanct is peace, development and good governance hence, if anyone or group are not satisfied with the outcome of the gubernatorial electioneering processes and results, he or she is hereby advised to deploy legal means in addressing their grievances at the court instead of taking laws into their hands.
"We recall how Chinedu Patrick Rhodes Vivour personally confessed in taking part in the barbaric arson and satanic induced burning of many valuable assets as directed by their  incarcerated IPOB leader, Mazi Nnamdi Kanu, which left unmitigated tales of woes, tears and blood; wherein Police Station at Orile-Iganmu was raised to the ground, several exotic and expensive BRT buses were burnt down, magnificent ultramodern TVC and Radio Continental Stations alongside sophisticated transmission assets were all raised to ashes.
"We cannot forget so soon how the Lagos High Court building with many important records, archives and documents were lost to the vicious criminal and maniacal indulgences acts of the IPOB led arsonists.
"Many supermarkets, offices and shops were equally looted, many businesses thrown into huge losses, life became unbearable and lawlessness and anarchy reigned unhindered.
"We advise that in order to avert the ugly repeat of the dark period in the history of Lagos State, law enforcement agents should rise up to curtail this impending violent threats before it boomerangs and snowball into full-blown crises.
"In a civilized society and cosmopolitan city like Lagos State, definitely history must not be allowed to repeat itself, precipitating our demand for the  immediate ABOLITION of All Non- Yoruba Indigenous Eze Ndigbo titles in Lagos State, and by extension all Yoruba Land henceforth.
"We call on the Executive Governor of Lagos State, Mr Babajide Olusola Sanwo-Olu to sign an Executive Order Abolishing all such un- gazetted illegal titles of Eze Ndigbo etal, while the Lagos State House of Assembly should review the Lagos State Chieftaincy laws on guiding prerequisites on confferement of traditional titles to Non- Indigenous Yorubas in Lagos State, and by extension other Southwestern States Governors and Legislative Houses should as a matter of necessity follow suit accordingly.
"We can no longer tolerate the excessive threats witnessed by the various various Eze Ndigbo groups in the recent times at both the State and Local Government levels, down to inner streets and hoods across the state, most of whom do not have any iota legitimate right of confferement to any Chieftaincy titles.
"Most regrettably majority of those self-acclaimed Eze Ndigbo do not hold any title in there villages, only to come down outside their ancestral territorial boundaries to cause unmitigated mayhems, make provocative utterances and political grandstanding (Lagos is No Man's Land).
"This extremely seditious provocative statements by the likes of  Mr Frederick Nwajagu, Ezeife, Patrick Rhodes Vivour, Nwayanwu, Yusuf Datti Baba Ahmed and others are condemnable, for this is in gross contravention of the extant laws of the constitution of the Federal Republic of Nigeria.
"We state unequivocally that henceforth all Eze Ndigbo should be addressed as Leader,  President and Coordinators of the their domiciled Ohaneze Ndigbo town Unions jurisdiction and locations forthwith.
"Once again we urgently call on the Law Enforcement Agencies to caution, warn and call any person parading themselves as Eze Ndigbo or IPOB in Lagos and other parts of Yoruba Land to order, so as not to drag our peace loving people into unnecessary mischievous controversies and vulgar attrition."