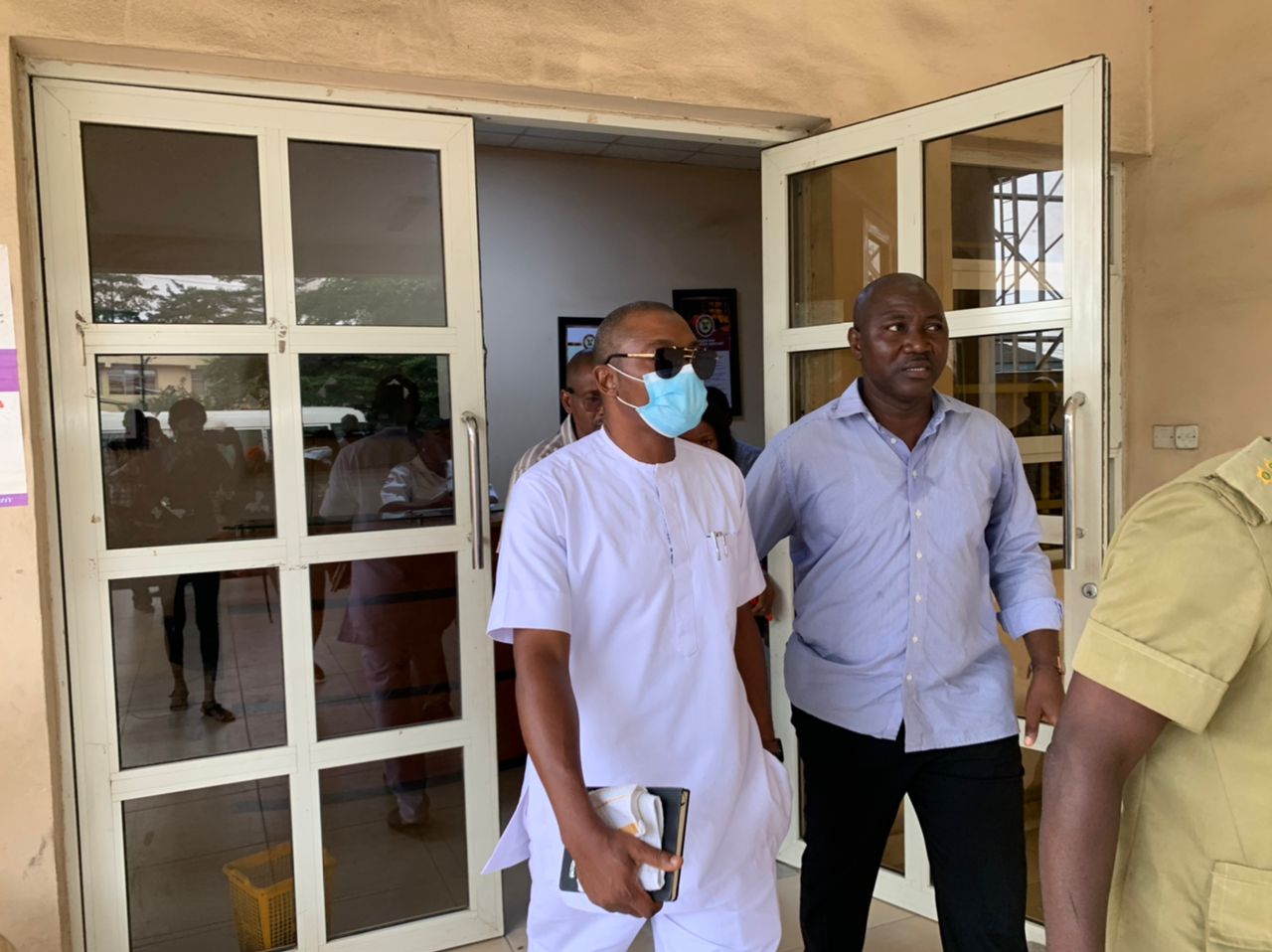 SEXUAL ASSAULT ALLEGATION AGAINST ME WAS FABRICATED BY MY WIFE – DR. OLALEYE TELLS COURT
Read Time:
4 Minute, 48 Second
By Aishat Momoh. O.
Dr. Olufemi Olaleye, the medical director of the Optimal Cancer Foundation, has testified before a Special Offences court in Ikeja, that his wife Remi had made up the accusation of sexual assault against him.
The defendant made the assertion before Justice Ramon Oshodi, on Friday, as he was being examined by Mr. Babatunde Ogala (SAN), his lawyer.
Dr. Olaleye, was accused of sexually abusing his wife's niece, who was 16-years-old at the time.
The pathologist and businessman claimed to have been married to Oluremi for 12 years, during which time they had two children, now ages 8 and 12, respectively.
He also said during his testimony that his marriage to Oluremi, was laced with lies while adding that she had extra marital affairs.
"I confronted her when she cheated on me with her ex-boyfriend. She also took a loan to buy a car without my consent.
"After two years in our marriage, we were separated for 12 months due to various lies she told me.
"Her educational background is false. She gave me a fake school certificate copy which I submitted to my lawyer," he said.
He said that his supposed victim or survivor, who was 18 when she first moved in with his family, was brought in without his permission.
According to the doctor, the putative survivor visited the house with his deceased mother-in-law while she was ill.
The defendant said that the mother-in-law left a message stating that the putative survivor should be sent back to the village, which was read to him and a few other family members.
"My late mother in law, in the note she left behind, said we should return the girl back to the village.
"Most of us laughed at the note because we did not know what she meant.
"I was in court when the girl said that I defiled her but, my lord, this is not correct. It is full of lies and fabrications.
"Remi made an arrangement for her to start school but I raised an objection because we did not have any external member with us, but she insisted, owing to the fact that she girl had failed her WAEC examination and she wanted her to re-take it before going back to Sapele.'' He said.
According to the medical director, the alleged survivor lived with his family from November 2019 to November 2021.
"She stayed in the same room (guest room) my late mother in-law used, but slept at night in the children's room," he said.
He told the court that he shared the same bedroom with his wife on the second floor of their two-storey building and had 16 Close Circuit Television (CCTV) cameras installed in the house.
"For security purpose, I installed four internal and four external CCTV cameras but shortly after the girl started living with us, my wife compelled me to install additional eight cameras.
"The CCTV cameras cover all angles, every room with exception of toilets. There are two CCTV cameras in my bedroom alone," he said.
The defendant told the court that he left the house on Nov. 27, 2021, because he had a fight with his wife due to her insistence that her name should be in the documents of the house.
"I had just finished paying all encumbrances and she saw that her name was not included. I told her it is my property but it is for her and my children. This led to a fight.
"I got upset and told her I was no longer interested in the marriage. I came to the house on the Nov. 28, the following day, and my children drew my attention to the fact that there had been a serious beating of the girl by their mother and that I should go check the CCTV.
"This was where I saw a brutal assault lasting for over 10 minutes with iron and hammer on the girl.
"An attempt to find out what transpired led to insults, she threatened that she was going to repeat the same treatment to the girl if I continued to question her.
"So I drove out of the house with the young girl," he said.
The defendant further explained to the court that when he got home in the evening, he saw his wife and her aunt; Tessy conversing in a language he couldn't understand.
"After their conversation, it became clear to me that they were making plans and raising the possibility of my molesting the girl, an accusation I find repugnant and evil.
According to him, the Divisional Police Officer of the Anthony Police Station, invited him the next day for questioning. When told of the allegations, he said he denied them but was detained for six days, as the officer told him the alleged offence wasn't bailable.
"I was later released, and signed an undertaking. I tried to contact my wife and reconcile, she said I am not welcome in our home again. I told her to do a divorce but she didn't listen. The police form the gender department called me again to report at the station. I again denied the allegations and was detained for eight days before I was released."
On December 19, 2022, Remi informed the court that her husband was diagnosed for sex addiction and that her niece confessed to her aunt that her husband initially introduced her to pornography.
According to her, the survivor said the defendant had been abusing her sexually since March 2020.
The defendant's alleged offences violate Sections 137 and 261 of the Criminal Law of Lagos State, 2015.
Justice Ramon Oshodi adjourned the case until May 22 for continuation of trial.