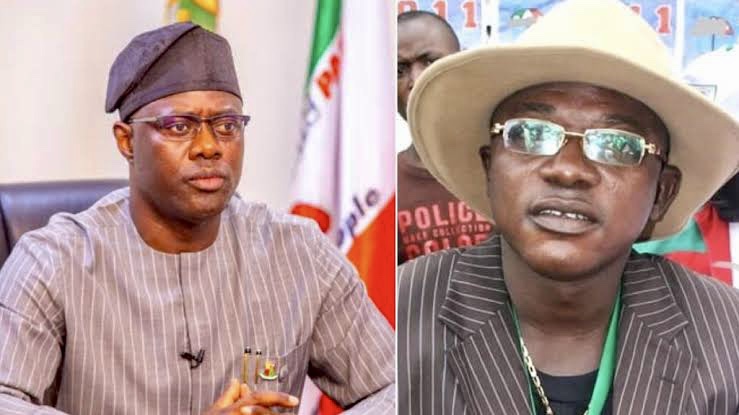 THERE CAN'T BE TWO GOVTS IN OYO – GOV. SEYI MAKINDE GIVES REASONS FOR SACKING 'AUXILLIARY'
Read Time:
1 Minute, 41 Second
Oyo State Governor, Seyi Makinde has explained why he sacked the former Chairman of disciplinary committee of the Park Management System in Oyo state, Alhaji Mukaila Lamidi, aka Auxiliary, saying there can't be two governments in a state.
Makinde disclosed on Sunday, during a thanksgiving service held at the Cathedral of St. Peter, Aremo, Ibadan to commemorate reelection.
Ex-Chief of Staff to the Governor, Segun Ogunwuyi, had last Tuesday, announced dissolution of the PMS headed by the former NURTW boss.
Oyo Police Command on the other hand, declared Auxillary wanted in connection with cases of attempted murder, causing grievous harm, arms dealing, murder, armed robbery within Oyo state and kidnapping at Oke-ogun and Ibarapa axis of the State.
The governor said he wielded the big stick by dissolving PMS, saying no meaningful activity can take place in an atmosphere of insecurity.
Makinde said that government would carry out all necessary reforms in PMS to ensure those fomenting trouble were engaged.
The governor said, "Before the last election, it wasn't as if there is no thugs but we called them and told them the new Oyo State we want. We don't want them to fight themselves, we don't want fight to break from our garages every time."
"We told them, don't fight anybody. if we are re-elected, we shall ensure we unite you so that everyone can get what belongs to him or her for people and the government to operate in the atmosphere of peace."
"But one of them said he can't work with others. so I said two governments cannot operate in the state, there will only be one government."
The governor said it took the grace of God for all his achievements in his first term.
He noted that the most important thing in Omituntun 2.0 is the upgrade of condition of the people, saying government shall do everything possible to make the upgrade is seemless and provide atmosphere for people to comply.