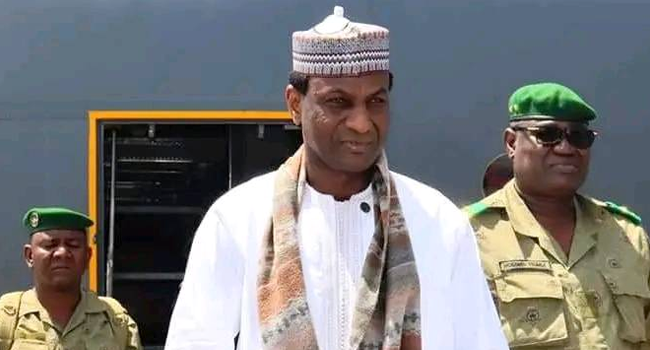 NIGER REPUBLIC: NOTHING WILL HAPPEN TO CAPTIVE PRESIDENT BAZOUM – ALI ZEINE
Read Time:
1 Minute, 40 Second
Agency Report
Ali Mahaman Lamine Zeine, the nation's new prime minister, stated to The New York Times on Friday that the generals who overthrew President Mohamed Bazoum on July 26 will not hurt him.
"Nothing will happen to him, because we don't have a tradition of violence in Niger," Zeine, the highest-ranking civilian selected by the military leaders, said in an interview with the newspaper from Dakar on the fate of deposed President Mohamed Bazoum.
Zeine stated that neither Russia nor the Wagner group's Kremlin-backed mercenaries were interested in working with the leaders of the Niger coup.
According to the New York Times, the coup leaders cut off the water and electricity to Bazoum's house, where he has been imprisoned since being overthrown, and threatened to kill him if other African nations carried out a plan to intervene militarily to return him to power.
An official from the European Union stated earlier on Friday that President Bola Tinubu had threatened "grave consequences" if the military government of Niger allowed Bazoum's health to deteriorate while he was under house arrest.
Reporters questioned a representative for Secretary-General Antonio Guterres at the UN's New York headquarters about Bazoum's condition and whether he was even still alive.
"I've spoken to someone who speaks to him regularly. And, yes, as far as we know and we have no indication to say that he's not alive. So as far as I know, he's alive," said Stephane Dujarric.
The Times also questioned Zeine, who took office as prime minister of Niger on August 7, about the deployment of 1,100 American and 1,500 French soldiers engaged in joint counterterrorism operations with the local army.
Zeine, a French-trained economist who previously held the position of finance minister in a different administration, predicted that "the moment will come to review" such military alliances and praised the White House's "extremely reasonable position" in favor of using diplomacy rather than force to avert the crisis.