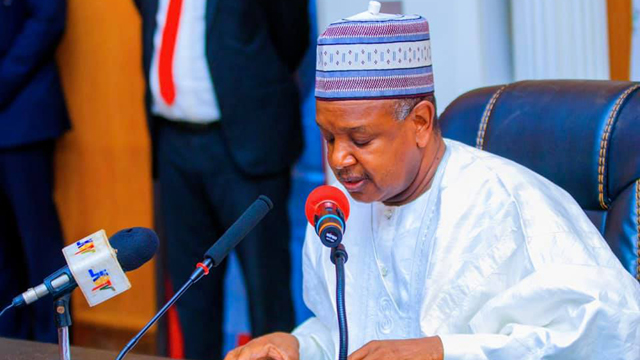 BAGUDU VOWS TO UNLOCK NIGERIA'S ECONOMIC POTENTIAL
Read Time:
1 Minute, 20 Second
The newly inaugurated Minister of Budget and Economic Planning, Sen. Abubakar Atiku Bagudu has vowed to leverage on the Ministry, its parastatals, agencies, and partners to unlock the economic potential of the country.
This was disclosed by Matawale in his speech at the ministry's resumption ceremony held in Abuja after his inauguration as one of the 45 ministers President Bola Tinubu appointed.
According to Bagudu, the current national challenge represents a generational opportunity to plan, replan and doggedly implement his carefully thought-out interventions and do so patriotically.
He promised that the ministry would help the new administration to think through the current economic challenges and offer sustainable immediate palliative measures.
He further promised to engender reforms that would cascade down to the parastatals under the ministry in a manner that would enhance their input toward achieving the ministry's mandate.
"Our economy is undergoing a challenging transition. For example, market-based pricing of Petroleum products comes with shocks that require deep reflections on policy tweaking and strategic interventions.
"This will put our ministry under obligation to help government to think through these challenges and offer sustainable immediate palliative measures.
"In my tenure as Minister, Budget and Economic Planning, I will keep an open door policy, listen to your outputs and suggestions as well as challenge us to think out of the box.
"In coming months, there is a heavy lifting to be done. I will work meticulously to leverage on the enormous human resources of the Ministry, its parastatals to unlock the potentials of our country, and achieve the noble agenda of President Bola Tinubu's administration."