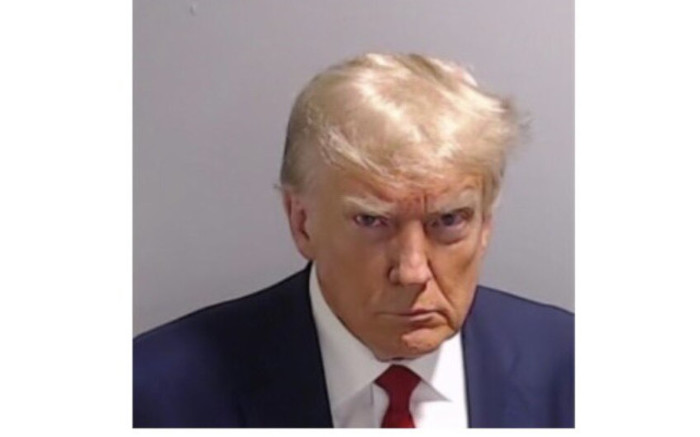 ELECTION CASE: TRUMP ARRESTED IN GEORGIA JAIL, MUG SHOT RELEASED
Read Time:
1 Minute, 43 Second
The former US president Donald Trump was detained on racketeering and conspiracy charges on Thursday in a Georgia jail but was released on a $200,000 bond, after having a historic mug shot taken.
Trump, who is accused of colluding with 18 other defendants to overturn the 2020 election result in the southern state, spent less than 30 minutes inside Atlanta's Fulton County Jail before leaving in a motorcade for the airport.
Like the other defendants in the case who have surrendered so far, the 77-year-old Trump had his mug shot taken during the booking process — a first for any serving or former US president.
In the photograph released by the sheriff's office, he scowled at the camera while dressed in a dark blue suit, white shirt and red tie.
Speaking to reporters after his arrest, Trump, the frontrunner for the 2024 Republican presidential nomination, said it was a "very sad day for America."
"What has taken place here is a travesty of justice," he said. "I did nothing wrong."
Trump posted the mug shot on his own Truth Social platform with the caption "Election Interference" and a link to his campaign website.
A short while later, he also posted it on X — formerly Twitter, which was Trump's favorite bullhorn until he was banned from it after the January 6, 2021 insurrection at the US Capitol by a mob of his supporters.
New owner Elon Musk reinstated Trump on X in November of last year, but Trump stayed away and posted instead on Truth Social. This was Trump's first post since 2021 on what had been Twitter.
Trump was given the inmate number "PO1135809" by the Fulton County Jail, which listed his height as six foot three inches (1.9 meters), his weight as 215 pounds (97 kilograms) and his hair color as "Blond or Strawberry."
The billionaire has been criminally indicted four times since April, setting the stage for a year of unprecedented drama as he tries to juggle multiple court appearances and another White House campaign.