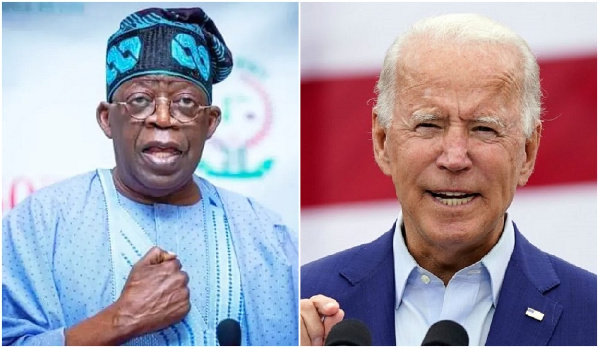 US PRESIDENT, JOE BIDEN EXTENDS INVITATION FOR DISCUSSION TO TINUBU
Read Time:
2 Minute, 58 Second
President Bola Tinubu has been invited to a talk by Vice President Joe Biden of the United States of America.
The US Presidential Envoy and Assistant Secretary of State for African Affairs, Ambassador Molly Phee, reportedly revealed this when he visited President Tinubu of Nigeria on Saturday, according to a statement from the Special Adviser to President Tinubu on Media and Publicity, Ajuri Ngelale.
According to reports, Phee informed President Tinubu that President Biden wanted to meet with him in late September in New York City during the UN General Assembly to continue the conversation.
The American representative pointed out that Tinubu is the only African leader who has received such an invitation from the US President.
"We know there is more we can do to incentivize large-scale American investment in Nigeria and we are committed to working closely with you to achieve that, as part of efforts to strengthen the Nigerian economy and the regional economy.
"We appreciate your willingness to create an enabling environment for that. President Joe Biden is asking to meet with you on the sidelines of UNGA and you are the only African leader he has requested to meet. It is a mark of his high regard for your leadership," the U.S. Special Envoy said.
At a time when independent African democracies are being attacked by anti-democratic elements both inside and outside of the continent, Tinubu counselled Phee to make sure that US policy is consciously cooperative with those nations.
In order to meet the developmental needs of younger democracies in Africa that operate in authoritarian-crowded environments, the President noted that American-backed development finance and multilateral institutions, which were designed to support war-torn Europe after World War II, need swift and comprehensive reform. This will prevent the legitimate aspirations of Africans from being used to further the narrow objectives of self-seeking demagogues through unconstitutional means.
"Yes, the private sector will lead the way within an enabling environment we create for them, but the U.S. Government must be innovative in its thinking and systematically create incentives for U.S. industrial investment in Nigeria. Under my leadership, Nigeria stands ready to address their specific regulatory, tax and environmental concerns. I am determined to create prosperity for all Nigerian families," the President declared.
The Nigerian leader reaffirmed that the crisis in the Niger Republic would not prevent him from successfully completing his economic reform program for the benefit of Nigerians and that in his approach towards how ECOWAS would handle the regional standoff, he would only advance the interests of his own country, Nigeria.
"We are deep in our attempts to peacefully settle the issue in Niger by leveraging on our diplomatic tools. I continue to hold ECOWAS back, despite its readiness for all options, in order to exhaust all other remedial mechanisms. War is not ideal for my economic reforms, nor for the region, but the defense of democracy is sacrosanct. The ECOWAS consensus is that we will not allow anyone to insincerely buy time," the ECOWAS Chairman affirmed.
The US Special Presidential Envoy highlighted the respect the US Administration has for the leadership of the Chairman of the ECOWAS Authority of Heads of State and Government by pledging its support for ECOWAS' position.
President Tinubu continued by saying that he accepts the invitation to speak with the American president during the UN General Assembly and that, notwithstanding recent events in America and other growing democracies across the world, the task of refining democracy never ends, even in developed democracies.