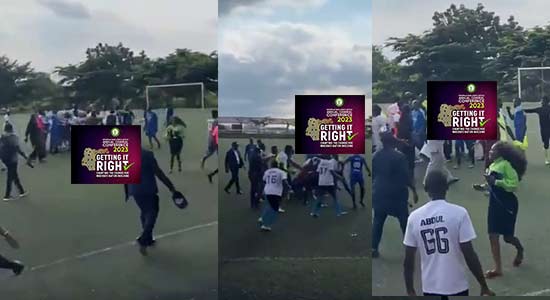 2023 NBA CONFERENCE: ABUJA, ONITSHA LAWYERS EXCHANGE BLOWS DURING FOOTBALL MATCH (VIDEO)
Read Time:
1 Minute, 32 Second
In an unexpected change of events, what started out as a football game between Team Abuja attorneys and Team Onitsha lawyers at the Abuja sports complex turned out to be more like a "boxing match" than a sporting event. This can be seen in a video making rounds on social media.
It was discovered that this behavior was exhibited by the Unity Bar branch. As part of the 63rd Annual General Conference of the Nigerian Bar Association (NBA), which is now taking place in Abuja, the event took place during a match that was arranged.
According to reports, the argument started when the head coach of the NBA Onitsha branch football team disputed the official's decision to extend play beyond the final whistle. The coach responded by physically addressing the referee and expressing his displeasure with the prolonged gameplay.
When a member of the planning committee tried to diffuse the conflict but was also struck by the coach, the situation worsened. Others got involved in this argument and made an effort to moderate it.
This unfortunate event serves as a sharp reminder of the passion that can occasionally inspire intense emotions in sports. During the last Annual General Conference (AGC), there was a similar incident in which legal professionals got into a fight while seeking to get their conference luggage.
This incident highlights the significance of maintaining composure and sportsmanship even in highly competitive circumstances and raises valid concerns about the reputation and professionalism of the legal profession in Nigeria. This event is a heartbreaking reminder of the need for polite behavior both on and off the pitch as the legal community gathers for the upcoming NBA Annual Conference.