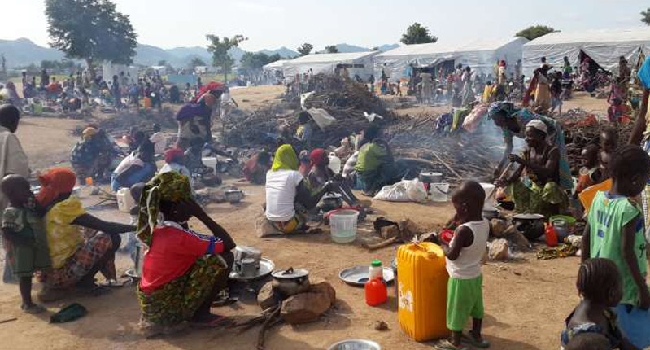 BUILDING COLLAPSE KILLS SEVEN AT BORNO IDP CAMP
Read Time:
1 Minute, 15 Second
Seven people have been reportedly killed with two others injured in a building collapse in a camp for people displaced by jihadist violence in northeast Nigeria's Borno State,
A classroom sheltering scores of Internally Displaced Persons in the garrison town of Monguno caved in around 19.30 GMT on Monday following torrential rains the previous day, AFP reported.
"Seven people were killed in (the) incident and two others were injured and presently in hospital," anti-jihadist militia leader Musa Kaka said.
Monguno, 135 kms (85 miles) from the regional capital Maiduguri, is home to thousands of IDPs who fled their towns and villages to escape the jihadist insurgency, which has also killed 40,000 people.
They live in makeshift camps under military and militia protection.
Around two million people have been displaced since the rebellion began in 2009.
The accident happened in a secondary school turned IDP camp where around 5,000 people live in classrooms, Kaka said.
The affected classroom had been weakened from a previous fire outbreak and the hours-long downpour on Sunday caused the collapse, said Bello Adamu, another militiaman, who gave the same toll.
The seven fatalities were buried on Tuesday, according to resident Ahmad Babangida who attended the ceremony.
"My friend's son was among the seven dead and his wife is in hospital with a fractured leg," Babangida said.
Building collapses are common in Nigeria, Africa's most populous country, because of sub-standard materials, negligence and poor enforcement of construction regulations.
0
0
There has been a fire outbreak in one of the Justice's chambers at the Supreme Court, Abuja. [video width="720" height="1280"...