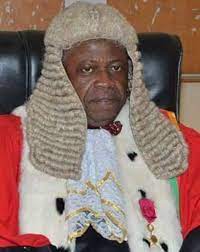 RETIRED CAMEROONIAN MAGISTRATE FOUND DEAD IN HOTEL ROOM
Read Time:
1 Minute, 4 Second
High-ranking former Cameroonian magistrate Bisseck Dagobert has died at age 74.
The retired magistrate's lifeless body was discovered in a hotel room on August 26, 2023, in Yaounde's Nkolbisson district according to a report on Social media.
In an earlier report, the deceased's family had claimed that his lifeless body was discovered in his automobile near the Nkolbisson MEEC junction but another anonymous source who debunked that information said, the late Dagobert was discovered in a hotel room already dead.
An employee at a hotel in Nkolbisson, close to the MEEC junction, reported that the magistrate arrived at the establishment at 4 p.m., followed by an unnamed and unregistered woman who went to his room.
According to the on-duty receptionist, the lady hastily left the hotel at 4 p.m. At 7 o'clock in the evening, hotel personnel found the magistrate's lifeless body in bed and alerted the gendarmes. In his hotel room, a lubricant was discovered on the bedside cabinet.
As at the time of filing this report, the cause of death of the 74-year-old magistrate is still sketchy as investigation is still ongoing.
Before his sudden death, he served as magistrate in the Supreme Court's Chamber of Accounts before his passing and also, served as the judiciary's president.
0
0
President Bola Tinubu, on Tuesday implored the Heads of National Drug Law Enforcement Agencies in Africa to renew the fight...