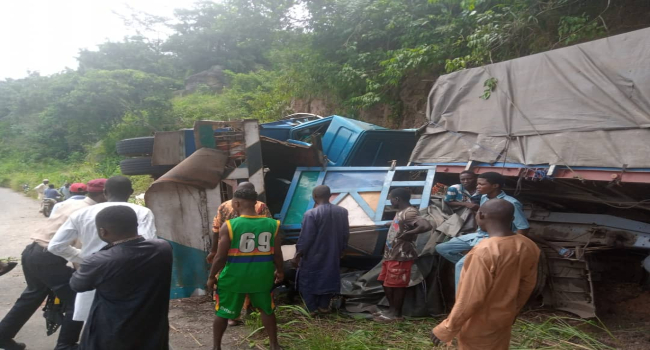 ACCIDENT CLAIM SIX LIVES ON OSUN ROAD
Read Time:
1 Minute, 4 Second
According to the Federal Road Safety Corps (FRSC) Osun State Command, an accident on the Imesi-Ile Highway claimed the lives of six people.
This was said by the sector commander, Henry Benamesia, in a statement released on Sunday in the state capital of Osogbo by the command's spokeswoman, Agnes Ogungbemi.
Six people died as a consequence of a head-on accident between two automobiles on Saturday at 9:44 p.m., according to Benamesia, which said one of the vehicles' brakes had failed.
On the Imesi-Ile hill, a speeding articulated vehicle collided with another blue commercial truck, causing casualties, according to him.
"We have five dead victims taken to the University Teaching Hospital in Osun (UNIOSUN) by the Nigeria Police before the arrival of the FRSC team.
"The last dead victim was trapped under the truck and we were able to use a machine to remove the trapped body from one of the vehicles," Benamesia said.
He claimed that out of the 17 people involved in the accident, 11 were unharmed, while the remaining six perished.
He urged drivers to use defensive driving in order to avoid any kind of collision.
However, Benamesia cautioned drivers to exercise caution behind the wheel and to check their cars' condition before starting any travel.
0
0
By Aishat O. Momoh The Lagos State Election Tribunal sitting at the Special Offences Court in Ikeja, will today deliver...