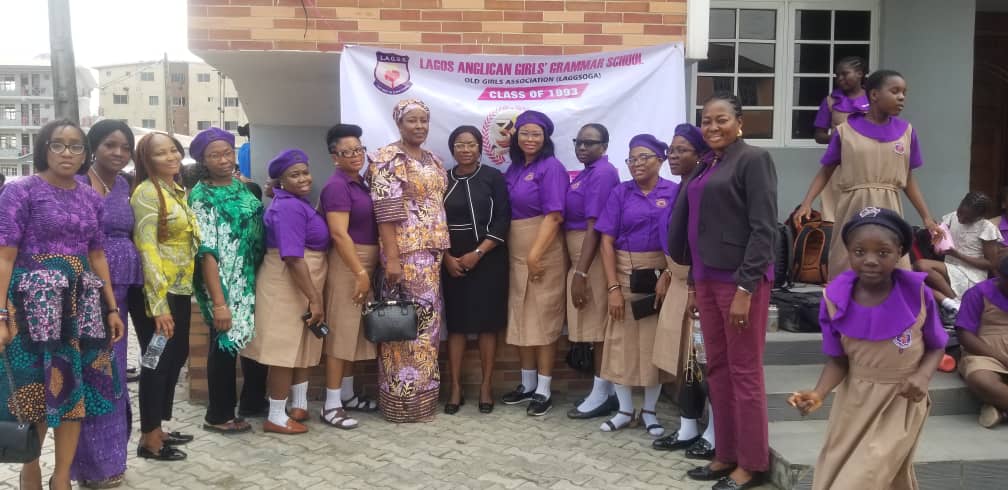 LAGGS 93′ SET: OLD GIRLS CELEBRATE ALMA MATER 30 YEARS AFTER GRADUATION
Read Time:
3 Minute, 12 Second
By Aishat Momoh. O.
… Warns Student against early sex and use of hard drugs 
The Lagos Anglican Girls' Grammar School (LAGGS), Surulere, Lagos, Old Girls' 1993 set has celebrated their 30th anniversary of graduating from the prestigious school, while exposing the present girls to the dangers of drug abuse and early sex.
The 93′ set, as part of activities for the event on Friday, September 8, 2023, held a symposium on the dangers of drug abuse and early sex.
During the event which was held at the school premises, the President of the '93 set, Mrs Lydia Nwajei, advised the students to stay away from all forms of drug abuse and early sex as it could lead to distraction and destruction of their future.
She noted that the reason why the set decided to teach the girls about the dangers of Drug Abuse and Early Sex, is because, it has become a horrible vice that seems to be eating deep into the fiber of the younger generation.
"No matter how little you think you just want to try, you get hooked. So, it's best you just abstain and stay away from drug abuse in order to live a good life." She said.
While delivering the anniversary lecture, Mrs. Rita Okpere, Deputy Director, Media and Advocacy, Nigeria Drug Law Enforcement Agency (NDLEA), told the students to stay away from any form of drug abuse as it tends to destroy lives.
She noted that though, drug abuse is not limited to teenagers alone but, it is more common amongst them.
"This should be a thing of concern to patriotic citizens of the country, and if not properly addressed, women, especially the girl-child can be vulnerable to them," She said.
Mrs. Okpere, also cautioned the students on the practise of early sex, while explaining that, "those who engage in early sex are most likely to practise risky sexual behavior which leads to multiple sexual partners and as such, increases the risk of sexually transmitted infection, genital infection and unsafe abortion."
She however, congratulated the 1993 set for putting together such wonderful event to celebrate their anniversary.
Mrs. Abiola Ogunlewe, who is also one of the old girls, while giving her lecture, urged the students to be assertive and also speak up when they don't feel comfortable.
In a chat which was shown to the girls, they could see inscriptions like, "A secret is still a secret when shared with your parents, Always trust your instincts, when you go out, stay with your friends" and many others.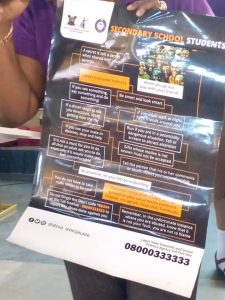 Meanwhile, the set's Public Relations Officer and Chairman Planning Committee of the 30th Anniversary, Mrs. Abiola Azeez, expressed delight at reuniting with her old classmates after a long time.
She thanked the sponsors and also her old school principal, who she identified as Mama Yomi Labode, for the knowledge instilled in them.
Speaking with Ifedigbo Chiamaka, the present Assistant Head Girl of the school, she thanked the old girls for a wonderful experience, while stating that she learnt a lot from the lessons taught on 'Dangers of Drug Abuse and Early Sex'.
"I learnt about the dangers of early sex and drug abuse, and I know that it is not a good thing to do because of the consequences and after-effect it will have on us."
However, another student, Durojaiye Oluwanifemi, the Social Prefect of the school, noted that she picked the dangers of abortion from the lectures. She urged her mates to abstain from early sex in order to avoid unsafe abortion.
She also, added that, drug abuse is very wrong for teenagers to engage in. "We should know that, to  be decent, we need to avoid a lot of things like taking hard drugs."
On that note, Durojaiye thanked the old girls' and hosts of the day, for organizing such a lovely event.