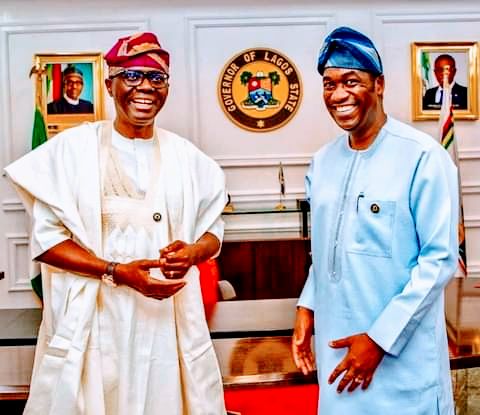 SANWO-OLU CELEBRATES OBAFEMI HAMZAT AS HE TURNED 59
Read Time:
1 Minute, 24 Second
The governor of Lagos State, Mr. Babajide Sanwo-Olu, congratulated his deputy, Dr. Obafemi Hamzat, who turned 59 today.
Governor Sanwo-Olu thanked Dr. Hamzat for being a reliable partner in the Greater Lagos agenda of the current administration in a letter of congratulations released by his Chief Press Secretary, Mr. Gboyega Akosile, on Tuesday.
The governor claimed that his deputy has been highly supportive of the administration's efforts to provide the citizens of Lagos with good governance and democratic dividends.
Additionally, he praised Dr. Hamzat's involvement in the expansion and development of Lagos State over the course of the previous 18 years in a variety of positions prior to his swearing-in as deputy governor on May 29, 2019.
According to Sanwo-Olu, Dr. Hamzat has used his role as commissioner in various ministries and as the second citizen of the Centre of Excellence to improve Lagos State and Nigeria as a whole.
As the longest-serving deputy governor in Lagos State's political history and a two-term elected deputy governor, Dr. Hamzat has proven himself to be a seasoned technocrat, administrator, politician, and devoted democrat, according to the governor.
He said: "Happy 56th birthday to my reliable, hardworking, dependable, supportive, trustworthy and committed brother, friend and partner in the Greater Lagos agenda of our administration.
"On behalf of my wife, Ibijoke, the people and government of Lagos State, leaders and members of our party, the ruling All Progressives Congress (APC), I wish Dr. Obafemi Hamzat many happy returns of today.
"As you celebrate your 59th birthday today, I pray that God will increase you in good health to enable you to render more service to humanity, Lagos State and Nigeria."