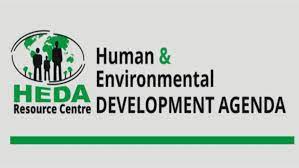 UN SUMMIT: NIGERIAN GROUP, 46 OTHERS APPLAUD GUTERRES FOR RESOLVING TO RECLAIM THE WORLD'S NATURAL RESOURCES FROM DISASTER
Read Time:
5 Minute, 23 Second
By Aishat Momoh. O.
Forty-Six  organizations from around the world, including a prominent Nigerian organization, Human and Environmental Development (HEDA Resource Centre), have endorsed United Nations Secretary General Mr. Antonio Guterres for his commitment to protecting the planet from future environmental danger.
The organizations expressed their support for the upcoming Climate Ambition Summit scheduled for UN Headquarters in New York.
At the historic conference, which is slated for September 20, 2023, President Bola Tinubu of Nigeria's government and other heads of state are expected to be in attendance.
The 46 coalition members and the HEDA Resource Centre expressed their gratitude to the UN Secretary-General. Mr. Guterres for his commitment to assisting the globe in reclaiming its depleting natural resources in the face of catastrophe and human suffering brought on by climate change.
In Nigeria and around the world, HEDA Resource Centre has been at the forefront of ongoing movements for a sustainable environment.
Additionally, the organization expressed support for his deputy, Hadjia Amina Mohammed, for her commitment to addressing the climate crisis.
Mr. António Guterres and Ms. Amina Mohammed, respectively, expressed the importance of Secretary-General Guterres' "Roadmap for a Livable Planet," a blueprint created for the summit, in a letter addressed to the UN Secretary-General and Deputy Secretary-General and signed by their respective representatives and transmitted through HEDA Resource Centre and its Chairman, Olanrewaju Suraju.
The blueprint unequivocally urges an end to all licensing and funding—public and private—for new coal, oil, and gas projects right away.
"These directives closely align with the findings of esteemed institutions such as the International Energy Agency (IEA) and the UN Intergovernmental Panel on Climate Change (IPCC), which have issued dire warnings about the catastrophic consequences of inaction. Both the IEA and IPCC stress that the critical target of achieving net-zero emissions by 2050, a pivotal milestone in mitigating climate change, necessitates a radical departure from further investments in coal, oil, and gas extraction. Disturbing data reveals that current fossil fuel extraction plans would result in a substantial surge in emissions, significantly exceeding the limits mandated by the Paris Agreement.
The organizations draw attention to the substantial differences between the global North, historically the main emitter of greenhouse gases, and the global South in their responses to the climate problem. While other Northern countries have paradoxically expanded fresh exploration operations, Denmark, a significant oil and gas producer in Western Europe, has abandoned all upcoming North Sea oil licensing rounds.
"For example, the United Kingdom recently greenlit 100 new oil and gas fields in the North Sea, a move that directly undermines its climate commitments. Simultaneously, the United States, the world's foremost historic polluter, approved the Willow oil project in Alaska, expected to emit millions of metric tons of greenhouse gases.
"Conversely, numerous governments and environmental justice movements in the global South have exhibited commendable leadership. Nations like Costa Rica, Belize, Colombia, and Ecuador have taken proactive measures to prohibit oil, gas, and coal exploration within their territories. However, many Southern nations remain hesitant to discontinue new licensing without a dedicated mechanism to compensate for future revenue losses.
The group strongly urges the Climate Ambition Summit to give tangible suggestions for compensation systems that give undeveloped oil, gas, and coal deposits top priority. In addition to addressing climate justice, these systems must provide reparations for historical ecological, climatic, and socioeconomic harm brought on by centuries of colonial exploitation carried out by the global North.
The group also emphasizes that suggested finance solutions must not imitate or establish commodity markets that sustain exploitative income streams, such as trading in carbon or ecosystem services. Instead, they should aid in a shift away from colonialist methods, giving the collective right of all living things to survive precedence over the acquisition of money by a small number of people.
An international tax on windfall energy company profits, a financial transaction tax, share buyback taxes, and a progressive global tax on oil, gas, and coal corporations based on their CO2 emissions are just a few of the financing options that have already been put up to support climate finance. Renegotiating unfavorable terms for current oil and gas licenses and enabling the return of funds held in the global North are further recommendations.
However, the organizations have high hopes for the UN to play a key role in supporting discussions and facilitating the return of assets obtained through corruption. The UN Office on Drugs and Crime and the UN Development Programme are seen as crucial platforms for these initiatives.
The coalition reiterates its steadfast support for the Climate Ambition Summit and believes that one of the key outcomes of the summit's discussions will be the emergence of specific ideas for compensatory finance structures.
"The urgent need for dedicated financing to enable global South nations to forego income from new fossil fuel licenses cannot be overstated, and immediate action is imperative to avert irreversible damage to our planet."
The civil society coalition groups includes the Accion Ecological, Ecuador; FENRAD, Nigeria; CISLAC Nigeria; Transparency International, Mongolia Community Resource Centre; Thailand, Community Outreach for Development and Welfare Outreach, Development Action for Humanity, Women Advocates Research and Documentation Centre, Nigeria; Initiative For Women Empowerment & Development (IWED); Society For Economic Rights & Social Justice (SERSJ); Neighborhood Environment Watch Foundation, Nigeria; Institutional and Sustainable Development Foundation, Nigeria; Environmental and Rural Mediation Centre; Support Initiative for Sustainable Development; Centre for Rural Economic and Social Development; Policy Alert, Nigeria.
It also includes Entrepreneurship Initiative for African Youth; Initiative for Ideal Development and Emancipatory Leadership in Nigeria; Universal Health and Economic Empowerment Foundation, Citizens Right Advocacy; Centre for Peace Education and Community Development; Commuters Rights and Development Foundation; Nature Advocacy and Development Initiative; Save Life Community Initiative, SLICOM-I, Lagos Urban Development Initiative; Resource Centre for Human Rights and Civic Education (CHRICED); Centre LSD; KebetKache Women Development and Resource Centre.
Community Information and Advocacy Initiative; CAFSO-WRAG for Development; Civil Society Coalition on Sustainable Development; African Coalition on Migration and Development; Global Witness MUSONET, Mali; HABITAT CARE and Protection; Rural Initiative for Change; Centre for Environment Peace and Youth Development; Grata Fund, Australia; African Network for Environment and Economic Justice Accountability Lab, Nigeria; Stephanie Peacebuilding and Development Foundation; Ogoni Solidarity Forum; Peoples Advancement Centre; Grassroots Advocacy Centre for Economic Development (GRACED); Re:Common, Italy; Initiative for Policy Intervention and Development (I4PID); Publish What You Pay, Nigeria; Cornerhouse, UK and The Corporate Accountability and Public Participation Africa (CAPPA).