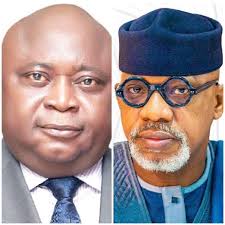 OGUN GOVERNORSHIP POLLS: ADEBUTU REJECTS TRIBUNAL JUDGEMENT, HEADS TO APPEAL COURT
Read Time:
1 Minute, 39 Second
Oladipupo Adebutu, the People's Democratic Party's (PDP) candidate for governor in Ogun State's March 18 governorship election, has disagreed with the Election Petitions Tribunal's determination that Dapo Abiodun is the state's legitimately elected governor.
The plea submitted by Adebutu was dismissed by the three-member tribunal last Saturday because it was "incompetent, defective, disjunctive, and lacking merits."
The ruling, according to Adebutu, was unexpected, depressing, and a danger to Nigeria's democracy.
The PDP candidate claimed in a statement released by Afolabi Orekoya, Director of Media for the Ladi Adebutu Campaign Organisation, that the ruling was "based solely on funny technicalities" and "failed to consider the substantial merits and evidence tendered during the trial."
"We firmly believe in the principles of democracy, transparency and the rule of law. It is with these principles in mind that we entered into the legal process to seek justice for the people of Ogun State whose mandate was stolen," he stated.
"Regrettably, the Tribunal chose to focus on mere technicalities and the use of English rather than engage in a thorough examination of the glaring evidence presented.
"We submitted substantial evidence that raised serious questions about the conduct of the election, even marked ballot papers and we are confident that a closer examination of this evidence would have revealed the true nature of the irregularities and discrepancies that occurred during the election.
"In the course of the trial, our legal team presented enough evidence that establishing non-compliance, voters' harassment and intimidation leading to the disenfranchisement of over 49,000 voters which is higher than the margin of lead of 13,915 as "purportedly" declared by INEC; the ballot boxes snatching, over voting among many other electoral malpractices perpetuated by Mr Dapo Abiodun and his party, APC.
"We obtained duly Certified True Copies of documents from the electoral umpire, INEC, and paid for with official receipts to back our claims which proved all the content of our petition and justified our concerns over the election."