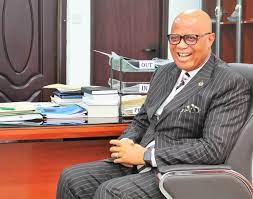 GOV. UMO CONGRATULATES TINUBU OVER S'COURT VICTORY
Read Time:
2 Minute, 9 Second
Pastor Umo Eno, the governor of Akwa Ibom State, congratulated President Bola Tinubu on his victory at the Supreme Court, stating that it ended the legal battles that had followed the President's election on February 25, 2023.
Despite the fact that Akwa Ibom State is a PDP state, he promised that his administration would stay in line with Tinubu's administration in order to bring development to the region.
The governor made this statement on Friday in the Banquet Hall of Government House, Uyo, during a "Thank You Meeting" hosted by Christian Leaders in the State.
In order to justify the trust that the state's whole populace and the church placed in him during the most recent gubernatorial election, he assured the gathering of his commitment to leading a united and flourishing Akwa Ibom State.
Eno stated that even if the withdrawal of oil subsidies is causing hardship for the nation, his administration would ensure that all resources be used for the benefit of the majority of the population rather than being squandered on frivolous projects.
"When I say there is no money, I mean there is no money to throw around but there is money to do good things. There is money to do every good thing. Money to do investments will not be a problem in this state. Money by itself is a scarce commodity. If you throw money around like that, it will lose its value".
The governor thanked the clergymen for not allowing divisive ethnic sentiments to saturate the church community, urging them to strive to keep the church united, irrespective of political or ethnic affiliations, to be in sync with his administration's disposition.
He said, "What the devil is trying to do is to dissipate us and when we start fighting, they rejoice. Let's look for them and tell them that politics is over. Let's bring people back. Let's build a united church so that we can have our strength.
"Let us join hands and support the Government. What the devil is trying to do is to dissipate us and when we start fighting, they rejoice", he stated.
Earlier,  the State Chairman of the Christian Association of Nigeria, Bishop Christian Nyong, said the Church community was impressed with Pastor Umo Eno's leadership strides
The CAN leader told the governor that the meeting was a representation of the various blocks that constitute the church community in the State and would engender greater support of Christians in the state towards the success of the present administration being led by one of their own.