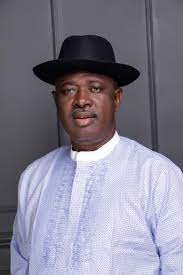 LOKPOBIRI VISITS KADUNA REFINERY TO INSPECT WORK IN PROGRESS
The Nigerian National Petroleum Company (NNPC) Limited's Group Chief Executive Officer, Mele Kyari, and Senator Heineken Lokpobiri, the State Minister of Petroleum, have arrived at the Kaduna refinery to assess the status of the refinery's ongoing quick-fix project.
In Kaduna for the 14th Refineries Rehabilitation Steering Committee meeting are the Minister and Kyari as well.
The refinery project is related to President Bola Tinubu's order to the Ministry of Petroleum and NNPCL to repair the country's abandoned refineries so that domestic crude oil refining can resume.
Nigeria has four malfunctioning refineries, including the 110,000-bpd Kaduna refinery. These refineries have not produced fuel in many years, forcing the nation to rely largely on imported petroleum products.
Official sources state that the refinery last underwent turnaround maintenance approximately fifteen years ago.
The NNPCL and Daewoo Engineering and Construction Nigeria Limited, a Korean business, inked a contract in February 2023 for the refinery's restoration.
0
0
The Chief of Army Staff (COAS) Lieutenant General Taoreed Lagbaja has paid a condolence visit to Tudun Biri community in...