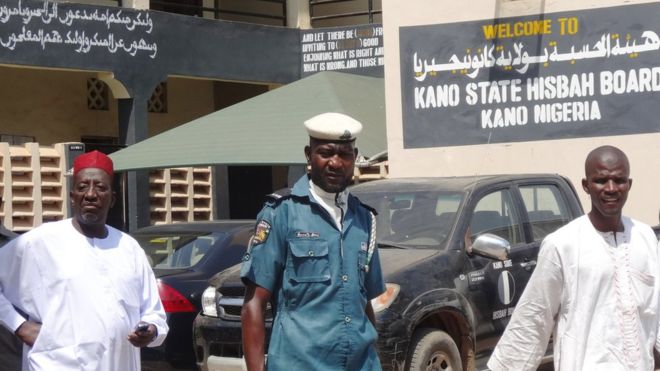 VIDEO: HISBAH POLICE DISCIPLINE EIGHT ALLEGED CROSS DRESSERS IN KANO
The Kano Hisbah Board has disciplined eight suspected cross dressers after their arrest at a wedding in Kofar Waika in Gwale Local Government Area of the state.
The Deputy Commander General of the Board, Dr Mujaheed Aminudeen-Abubakar, made the disclosure to reporters on Tuesday in Kano.
According to him, the suspects were arrested following a tip off by good Samaritans that young men dressed in female Fulani attire attended and were dancing at a wedding.
"Our officials, on receiving the information, went to the venue of the wedding ceremony and apprehended eight young men, including the groom, dressed in full female Fulani attire, dancing to music in their regalia," he said.
Aminudeen-Abubakar, according to the statement, said that they confessed to the crime when arraigned before Hisbah Shari'a Court in Kano.
The Presiding judge, Khadi Tanimu-Sani, ordered that each of them be given 10 lashes of cane, pay N20,000 and produce one surety each or be remanded in correctional centre for three months.
The board, which was established in the year 2000, is saddled with the responsibilities of enjoining what is right and forbidden in Islamic ways and manners.
Watch video below:
0
0
The Governorship Candidate of the New Nigeria People's Party (NNPP), Hon. Uche Ben Odunzeh, in the just concluded governorship election...