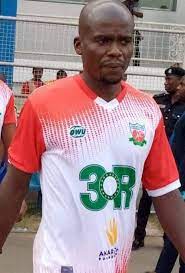 HEARTLAND CAPTAIN APOLOGIZES TO FANS FOR POOR RESULTS
Read Time:
1 Minute, 21 Second
Heartland FC of Owerri has endured a difficult start to the season on their return to the Nigeria Premier Football League (NPFL), with no win in five games.
The club, famously touted as the Naze Millionaires, has drawn all two home games played so far and lost two on the road while plucking a draw at Akure against Sunshine Stars.
And ahead of their Matchday 6 fixture at home to former champions Rivers United, the captain, Nnaemeka Anyanwu, has the support of their solicited fans and apologized for their uninspiring performance so far.
"We are sorry about our not-too-good start to the season. We are ready to make amends and that will start with our game against Rivers United", pleaded Anyanwu who has had stints at former champions Enyimba and Abia Warriors.
He said the players will benefit from the solid backing of the fans at this difficult time to turn their fortunes.
"It is this time that we need our fans and supporters behind us. We will continue to work hard to get over our difficulties and challenges.
"We can do it if we do away with some of the errors we have made during games and are also more forceful in attack", Anyanwu pledged.
He noted that their situation calls for understanding and patience from the fans, urging them to come out in numbers to the stadium.
"Our fans need to be patient with us. We shall get it right. Let them come to Dan Anyiam Stadium, Owerri to cheer us on to victory. It is what we need at this point", he told the club media.
0
0
The Federal Inland Revenue Service (FIRS) has waived accumulated penalties and interests on outstanding tax liabilities. The decision was contained...