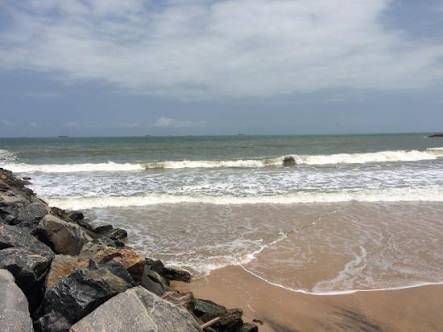 MAN DROWNS DURING CHURCH BEACH HANGOUT IN LAGOS
Read Time:
1 Minute, 36 Second
On Saturday, while attending a church hangout, a 34-year-old guy named John drowned in Lagos State's Elegushi Beach.
There were rumours that the late John participated in a picnic that the unidentified church in Ikorodu had planned for its young members.
Additionally, it was learned that worries increased when the group realised they couldn't find him anywhere on Saturday afternoon as they prepared to depart the beach.
It was discovered that while the churchgoers started looking for him, someone told them they had witnessed him fall into the lake. Despite alerting lifeguards and divers, efforts to find him in the ocean on Saturday were unsuccessful.
It was gathered that his body was only recovered by lifeguards on Tuesday afternoon at the beach.
A source who witnessed the event but doesn't want to be named said, "A church from Ikorodu had come to Elegushi beach for a hangout on Saturday. They were just young people who came around to have fun; about 35 of them came that Saturday.
"It happened that late in the afternoon when they were packing up to leave, they called everyone to make sure that they were all accounted for, 35 of them, before they left. That was how they realised that one of them, John, was missing.
"Then they started searching for him that evening. Then, someone told one of them that he had seen the guy walk towards the water thinking he knew how to swim.
"The group then called lifeguards and divers to help search for him that Saturday, but they didn't find him until yesterday, Tuesday, at about 1 p.m., when they recovered his body at the beach."
Benjamin Hundeyin, the state police public relations officer, verified the occurrence when he was called.
"The victim's family has been contacted, and the victim's body has also been deposited at the Yaba General Hospital for an autopsy," the superintendent of police continued.