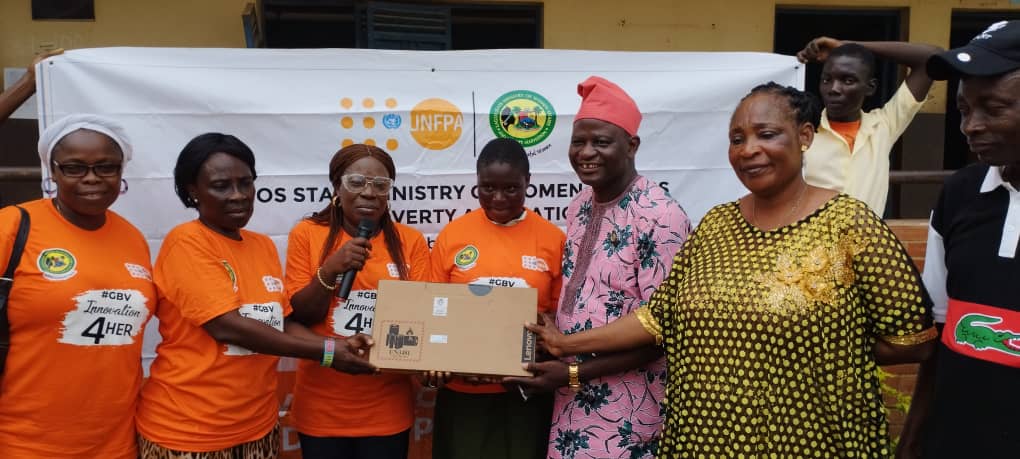 WAPA, UNFPA COMMEMORATE INTERNATIONAL DAY OF THE GIRL – CHILD AMIDST SECONDARY SCHOOL STUDENTS IN LAGOS STATE
Read Time:
3 Minute, 40 Second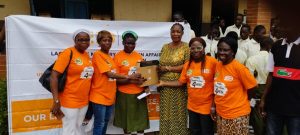 …gives awards for sterling performance to 3 Public Schools' Students .
In a bid to ensure social inclusion through a sustainable synergy of curbing Sexual and Gender Based Violence which is particularly directed at earmarking the Year 2023 International Day of the Girl -Child with the theme "Digital Generation, our Generation", the Ministry of Women Affairs and Poverty Alleviation in conjunction with the United Nations Population Fund ( UNFPA), has conducted a Youths' participatory initiative on Digital technologies across 5 Secondary Schools of Lagos State.
The initiative being first following the symbiotic liaison between both gender organizations, is being directed at stepping -up the shift from analogue to digital technologies using technological advancements ranging from smartphones, mobile Internet and the Internet of Things (IoT), to Artificial Intelligence (AI) and machine learning, (big) data as well social media, cloud computing and robotics, for the female gender 's active participation across all spheres of societal spectrum, through essay writing competition amongst students of Government Senior College ,Agege, Alimosho Senior Grammar School , Iyana – Ipaja , Lagos State Senior Model College , Meiran, Keke Senior Secondary School, Agege, and Vetland Senior Grammar School.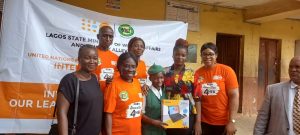 Speaking at the presentation of awards for sterling performances to outstanding students at their respective schools, the Commissioner MWAPA; Hon. Cecilia Bolaji Dada, acknowledged that for gender – equality not to be a lofty concept, it is imperative to invest in education, health and skills development of the girl – child as change agents of our various communities.
Hon. Cecilia Dada, who was represented across the three successful schools by the Director, Domestic Violence Unit, MWAPA; Ms . Olorunfemi Toyin, stated " We live in an era where the opportunities for girls to excel are limitless. With the advent of technology, girls can access education, entrepreneurship, and information like never before. They can challenge stereotypes, fight for their rights, and become leaders in various fields."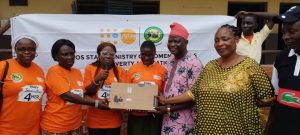 Still speaking, the MWAPA Commissioner said"we must also acknowledge that there are still significant barriers that girls face in our society, including limited access to technology, restricted educational opportunities, and gender-based violence. That is why initiatives such as this award ceremony are essential in promoting and celebrating the achievements of our young girls. .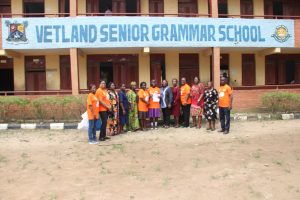 "Today, we are not just recognizing their accomplishments; we are also highlighting the urgency of creating an enabling environment that supports their aspirations and dreams, she added .
While reiterating on need for concerted intervention support on women emancipation and empowerment, Dada implored for protection of girl – child across Lagos State , in curbing discrimination and violence through use digitalization and innovation trainings for self sustainability which presents amazing opportunities in bridging the gender- equality gaps.
Also speaking, the UNFPA, Gender Reproductive Health Analyst; Dr. Esther Somefun , disclosed that the digital revolution has brought the immense potential to improving social and economic outcomes in order to enhance global well – being, productivity , growth of the populace with the immense potentials. of Women , however, being under-represented in the digital revolution especially in low- and middle-income countries despite the possibilities for marshalling greater equality.
She remarked "the UNFPA LLO through its Youth Participatory Platform and Lagos State Ministry of Women Affairs and Poverty Alleviation, has launched an innovation challenge to inspire solutions to prevention of Sexual and Gender – Based Violence in educational institutions and various workplaces , through nomination of five (5) Senior Secondary Schools who all participated in the Essay Writing competition on the Topic " The Challenge of Innovation and Digitalisation for Gender -Equality, for Girls". Twelve (12) students from each school actually participated in the essay writing and prizes are being awarded today, to the first, second and third sterling performances in the district with their parents in attendance."
"It is on this note that I announce that Miss. Akeula Faidat of the Alimosho Senior Grammar School, Iyana -Ipaja came 1st , Miss. Afosefoun Idowu of the Lagos State Senior Model College Meiran, came 2nd and Miss. Erioluwa Olofin Iyiola of the Vetland Senior Grammar School, Agege, coming 3rd, respectively . " Dr Somefun stated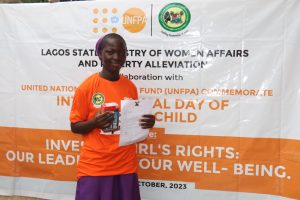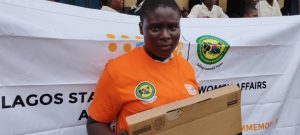 The highlight of the event were the presentation of gifts to 1st runner- up who was given a laptop, with the 2nd runner- up going home with a tablet phone and 3rd runner- up an Android phone, as sterling performances in a competition which commemorates the International Day of the Girl -Child by MWAPA, in collaboration with UNFPA.