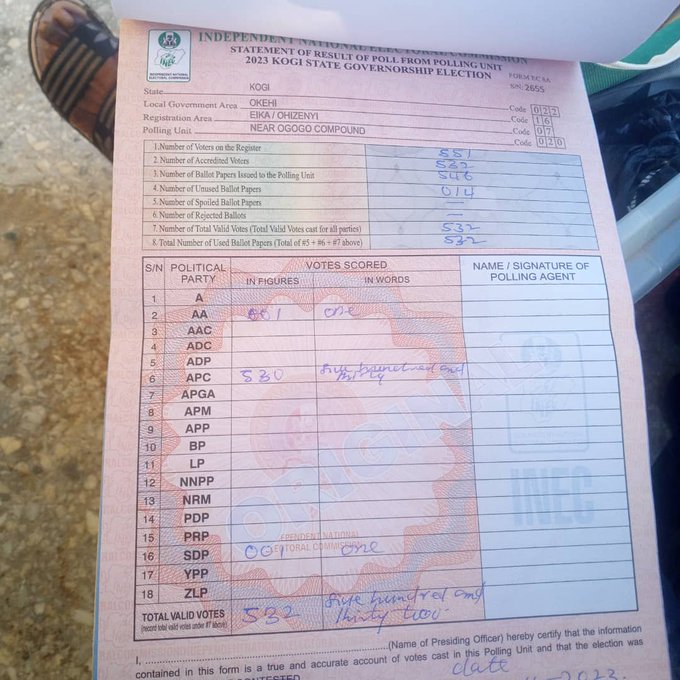 BREAKING: INEC PROBES 'FILLED RESULT SHEETS' DISCOVERED IN KOGI
Read Time:
1 Minute, 47 Second
The Independent National Electoral Commission (INEC) says its "senior officials" are currently investigating the incident(s) of pre-filled election result sheets in Ogori/Magongo, Eika/Ohizenyi and some other areas of Kogi State.
Civil society organisation, YIAGA Africa, on Saturday morning, in a post on X (formerly known as Twitter), raised the alarm that results sheets were filled in Kogi before the commencement of voting on Saturday.
Dear @inecnigeria we received report of pre-filled results sheet discovered in PU 004, Eni Ward of Ogori/magongo in Kogi state before commencement of voting. Kindly investigate and address this issue promptly to safeguard the integrity of the process. #KogiDecides2023 pic.twitter.com/OXg7fx2QpR
— Yiaga Africa (@YIAGA) November 11, 2023
YIAGA Africa also urged INEC to probe the matter and "promptly safeguard the integrity of the process".
Similarly, the candidate of the Peoples Democratic Party (PDP), Dino Melaye, raised the alarm about the incident in Ogori/Magongo, accusing the ruling All Progressives Congress (APC) of trying to compromise the election.
In a swift reaction, INEC said its officials are looking into the matter and a decision will be communicated "earnestly".
"Our attention has been drawn to a report that filled result sheets were discovered in some polling units in Kogi State.
"The Commission views this situation seriously.
"Our senior officials deployed to the State are currently investigating the incident(s). The Commission will communicate its decision earnestly," the commission said.
In Kogi, the total number of registered voters is 1,932,654 and Permanent Voter Cards (PVCs) collected is 1,833,160 with youths taking a lump 44% (850k) and the middle-aged having 32% (341K)
Eighteen candidates are in the contest in Kogi. Some of the top contenders in the November 11, 2023 poll in Kogi include Murtala Ajaka of the Social Democratic Party (SDP); Leke Abejide of the African Democratic Party (ADC); Dino Melaye of the Peoples Democratic Party (PDP); and Usman Ododo of the All Progressives Congress (APC), who is an ex-Auditor General of Local Government in Kogi under Governor Yahaya Bello.
Like Kogi, governorship elections are being held in Imo and Bayelsa states.