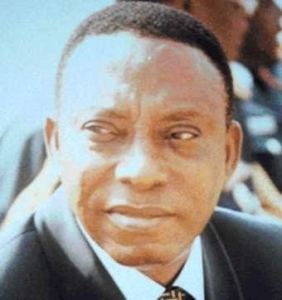 NIGERIAN ARMY MOURNS DEATH OF FORMER CHIEF-OF-ARMY STAFF, CHRIS ALLI
Read Time:
1 Minute, 6 Second
The Nigerian Army (NA) has extended its condolences to Lieutenant General Taoreed Lagbaja, the COAS, following the loss of Major General Mohammed Chris Alli (Rtd), the former COAS.
The Director of Army Public Relations, Brigadier General Onyema Nwachukwu, expressed his sympathies in a statement.
"The Chief of Army Staff (COAS) Lieutenant General Taoreed Lagbaja has expressed heartfelt condolences on behalf of the Nigerian Army (NA), on the passing of former COAS, Major General Mohammed Chris Alli (Rtd)," it said.
"The former Army Chief succumbed to a brief illness in the early hours of today, Sunday 19 November 2023 at the Military Hospital, Lagos."
The statement highlighted Major General Alli's unwavering commitment and zeal to duty, evident in his rise to key appointments within the Nigerian Army. His illustrious military career culminated in his appointment as the 9th Chief of Army Staff in November 1993, a position he held until he retired from active service in August 1994.
"Born on December 25, 1944, in Koton Karfe, Kogi State, General Chris Alli's journey in the Nigerian Army commenced on October 20, 1967, as a member of the Emergency Short Service Combatant Course," the statement read.
"He served diligently in various capacities, including staff, instructional, and command roles, and also held the position of Military Administrator of Plateau State at one point."
0
0
The Governorship Candidate of the New Nigeria People's Party (NNPP), Hon. Uche Ben Odunzeh, in the just concluded governorship election...