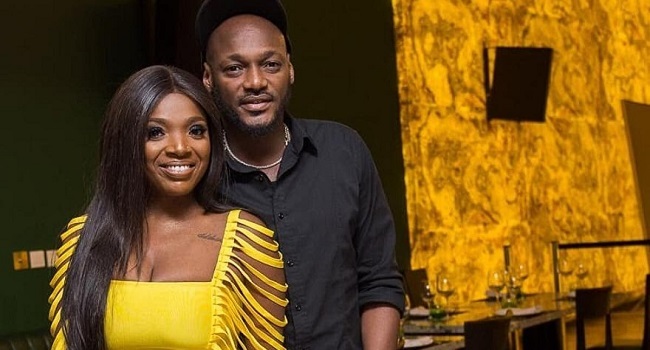 ANNIE IDIBIA DENIES RUMOURED RIFT WITH 2BABA'S SEVEN CHILDREN
Read Time:
1 Minute, 51 Second
By Adeniyi Onaara 
Annie Idibia, a Nollywood actress, has refuted claims she and her musician husband, 2Baba, are having a falling out.
While criticizing bloggers for spreading false information, the mother-of-two stated that she adored all of 2Baba's seven children and that love was the only language she understood.
She said she loved her spouse the same way she loved her husband on her Instagram story on Tuesday.
"Stupid, obnoxious bloggers!" When we're elderly and frail, our kids na dem are going to take care of us! Make una no start to dey create disputes amongst all seven of my children! Yes, seven of them, whether or not they are like me! All seven of them. Stop with the falsehoods and slandering already!" Annie communicated in pidgin.
"The only language I understand is love," the actress continued. I adore my Inno in the same way I adore all of our children! You can't love a man the way I do and then despise his children. Stop! He will die for them!"
She expressed her displeasure with the rumors and warned legal action if they continued.
"For seriously, you need to f**king stop!! It's starting to irritate me! "Legal action is on the way!" Annie remarked.
When it was discovered that the actress was no longer following her spouse on Instagram, rumors began to circulate.
As a result, several reports claimed that a rift was brewing between the couple.
However, in a Monday post, the mother-of-two said that the unfollowing was triggered by an Instagram issue, which led to the rumored disagreement with her husband.
This comes only two months after Annie revealed on a reality TV show how heartbroken she was when she discovered 2Baba had children with two other women when they initially dated.
She said that her first kid was 2Baba's sixth, and that she had been humiliated.
The well-known musician has seven children from three different women, including his wife, Annie.
While he and Annie had two daughters together, he had two sons with Sumbo Adeoye, who had since moved on.
US-based Pero Adeniyi has three kids comprising two boys and a girl for the multiple award-winning singer.