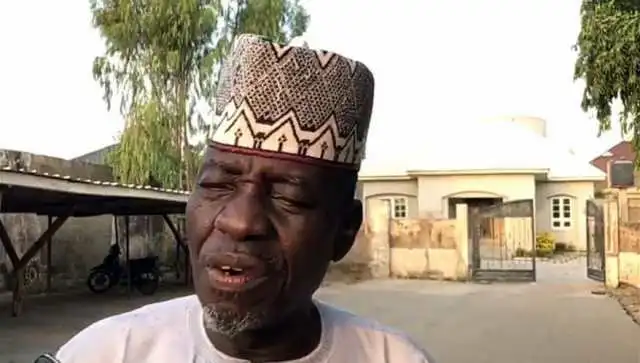 FORMER NFF SECRETARY-GENERAL SANNI TORO, 2 OTHERS KIDNAPPED; N150M RANSOM DEMANDED
Read Time:
2 Minute, 40 Second
Gunmen kidnapped Alhaji Sani Toro, the former Secretary-General of the Nigeria Football Federation; Garba Yila, the former Assistant Coach of the Nigeria's Super Eagles; and Alhaji Isa Jah, one of their friends.
They were kidnapped near a hamlet in Nasarawa State, according to our source.
They were reportedly on their way back to Bauchi from Abuja, where they had attended the wedding of Aminu Maigari, the son of a former NFF President, on Saturday.
They left Abuja at 5 p.m. and were kidnapped around 7.30 p.m., according to reports.
The kidnappers demanded N150 million in ransom, according to a family source who confirmed the event to journalists in an interview on Sunday.
According to the story, the hoodlums conversed with Maigari, their host.
"Yes, he (Isa Toro) was driving with two of his pals when they were taken yesterday," says the source (Saturday). The kidnappers have demanded a ransom of N50 million from each of them, according to the source.
Mallam Ardo Hazzad, a family friend and Toro's neighbor, also corroborated the occurrence.
"One of them, Garba Yila, the former Super Eagles Assistant Coach, is not in good health," he claimed.
"It's awful and pathetic that the situation occurred after they attended one of our friends' weddings. I would have been with them if I had known about the wedding, because I would have accompanied them to the wedding in Abuja. "
Ahmed Wakili, the Public Relations Officer for Bauchi State Police, confirmed the kidnapping but claimed he couldn't go into detail because it happened outside his state.
"Yes, the story is real," Wakil, the Superintendent of Police, said. I spoke with one of his sons, who informed me that he was abducted while returning from Abuja at Akwanga road in Nasarawa. "
Umar Sai'du, a former Deputy National President of the Nigerian Sports Writers Association, called the episode sad and frightening, adding it would cause alarm among sports administrators and athletes.
Sa'idu, the current Chairman of the Nigeria Union of Journalists in Bauchi State, expressed concern about the country's escalating insecurity.
"Consider the country's 20 premier league clubs; how many of them can afford to travel by air?" he questioned. Some of them used to travel late at night, which indicates that they are not safe. It will send the incorrect message to our sports industry, implying that no one is secure, particularly sports administrators.
"It will deter sportsmen and women from visiting certain sections of the country because they are afraid of being kidnapped or killed."
The occurrence, said Brig. Gen. Marcus Yake (retd), Special Adviser to the Bauchi State Governor on Security, was sad and tragic.
"I don't believe they were specifically targeted because of who they are," he said. I believe it was simply a random kidnapping. Personally, I was not pleased that they continued down that road because it is a dangerous road and it was dark. There are numerous bushes that are notorious for illicit activity.
"There have been kidnappings, banditry, and criminal activity, particularly at night, because even daytime travelers on that road are not completely safe, let alone at night."
Kidnappings are becoming more common in the country, with priests and traditional authorities becoming targets.