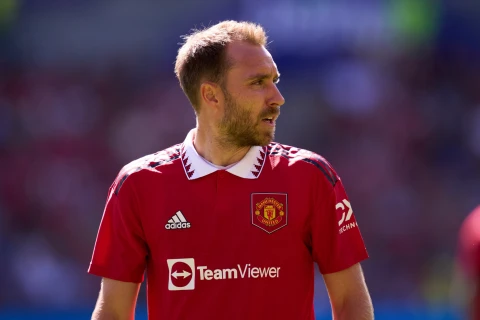 I HAD CHANCE TO JOIN MAN UNITED ON THREE DIFFERENT OCCASIONS — CHRISTIAN ERIKSEN
Read Time:
1 Minute, 8 Second
Christian Eriksen revealed he almost joined Manchester United on three separate occasions while playing for Tottenham Hotspur, and that his decision to join the club had been years in the making.
Eriksen made his first appearance for Erik ten Hag's team in Sunday's 1-1 tie with Rayo Vallecano in a preseason friendly after inking a three-year deal at Old Trafford this summer.
The Danish midfielder claims that during his time at Tottenham from 2013 to 2020, he held talks with United managers Louis van Gaal, Jose Mourinho, and Ole Gunnar Solskjaer, and might have joined the team years earlier.
"I've spoken to every manager who's been here at Man United to see what the situation was," Eriksen said.
"However, I was playing for Spurs at the time, and I couldn't imagine joining another English team at that time. I moved to join Inter instead.
It has been a rollercoaster 12 months for Eriksen, who suffered a cardiac arrest while playing for Denmark at the European Championship last summer.
He was released by Inter Milan in December 2021 amid fears he might never play again but signed a short-term contract at Brentford in January.
When he became a free agent in June, United signed him despite Brentford's interest.
There were rumours that he might go back to Spurs, but Eriksen claimed they never tabled an offer.
0
0