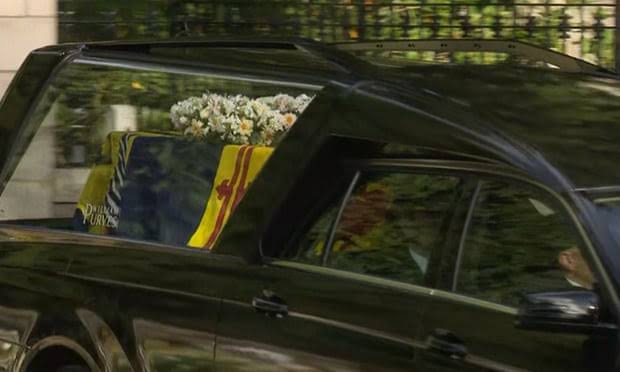 QUEEN ELIZABETH II BEGINS FINAL JOURNEY AS COFFIN LEAVES BALMORAL CASTLE
Read Time:
2 Minute, 4 Second
By Adeola Abdullah
The funeral ceremonies for the late Queen Elizabeth II, has begun.
The coffin was driven out in a hearse out of the Balmoral Castle at about 10.07am (local time) in a motorcade of seven vehicles led by an outrider.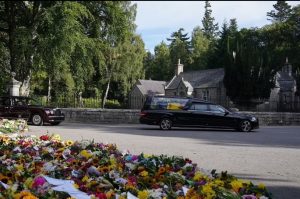 The body is being taken to Edinburgh, the Scottish; in a journey of about 175.4miles (about 6 hours drive).
The coffin will be taken to the Palace of the Holyroodhouse and lie in the Throne Room.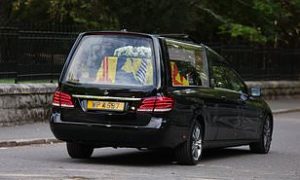 The Queen's funeral will be held on Monday, September 19.
All churches in United Kingdom will hold memorial services in honour of the late Queen Elizabeth II.
A slight mist hung in the air at Balmoral Castle early this morning ahead of the Queen's final departure from what was one of her most beloved places to spend time. Police officers stood guard at the castle gates beside floral tributes which have been laid by members of the public since the Queen died on Thursday.
Placed neatly on top of dozens of bouquets was one particularly touching memento – a plastic zip-bag containing a marmalade sandwich with the message, 'a marmalade sandwich for your journey ma'am'.
Members of the public began gathering early this morning in the village of Ballater, eight miles east of Balmoral, to pay their respects to the late Queen. Families have been seen setting up picnic chairs and attaching union flags to barriers outside the village's Glenmuick Church from about 7am.
The Queen's coffin will be driven past the church at a walking pace to allow people to pay respects, with local minister the Reverend David Barr predicting the moment would be met with 'overwhelming emotion' from villagers, many of whom knew her personally.
Once inside the Palace of Holyroodhouse, the coffin will rest overnight in the oak-panelled throne room. Proclamations will be read in the Scottish, Welsh and Northern Ireland devolved parliaments in Edinburgh, Cardiff and Belfast.
Tomorrow, Edinburgh will become the focus of national mourning, with the Queen's coffin carried in a procession from the palace to St Giles Cathedral, where a Vigil of the Princes is expected to take place before it lies in state for 24 hours.
The Queen's poignant final journey will eventually end at St George's Chapel at Windsor Castle, where she will be buried alongside her beloved husband, Prince Philip, alongside her father, George VI, the Queen Mother, and her sister, Princess Margaret.