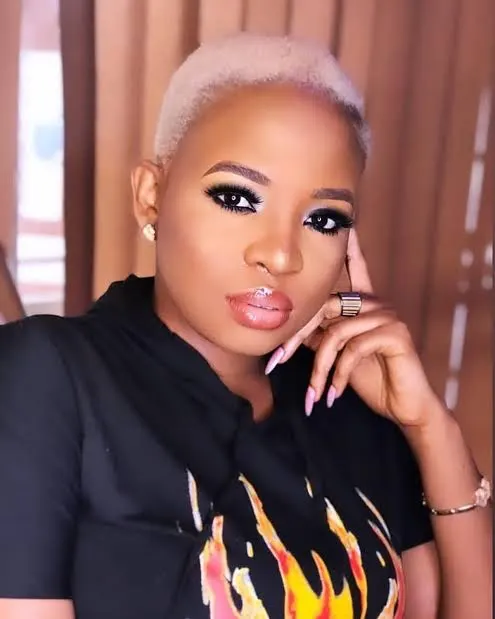 BBNAIJA: IT HAS BEEN DIFFICULT KEEPING MY VIRGINITY- CINDY OKAFOR
Read Time:
1 Minute, 50 Second
Cindy Okafor, Nollywood actress and former Big Brother Naija housemate, has spoken out about her difficulties as a virgin.
The reality star revealed this in a comment on an Instagram post about virginity and how difficult it had been too maintain status, but insisted she was doing well.
"It has been difficult keeping my virginity, but I'll stay strong," she wrote.
Cindy Okafor previously stated in an interview that she no longer spends money on men.
She emphasized the qualities that drew her to a man. She stated, "He has to be tall because I am obsessed with very tall guys. He must be good looking to an extent and know how to dress. The main thing for me is that he has to have common sense. Even if we gossip and play, I want us to connect mentally. He must have something going on for him because gone are the days when I spent money on guys. He must be very comfortable. I also hate lies and it turns me off in a man."
"I am not saying I will date a broke guy but he has to be hardworking and he has to have something going for him. But the conversations of some women are always about men doing things for them financially. I don't have any issue collecting money from my man but the type of money I am looking for, I don't think any man can give it to me. That is why I have to hustle."
The actress also stated that she does not feel pressured to portray a phony lifestyle on social media. "I do not always like to share all my achievements. I just make posts about my business and make people laugh on my page. I want to start a blog and people will start seeing a lot of my accomplishments soon. I don't feel any pressure to live in a certain way. People who will praise one today will condemn one tomorrow when small things happen to one. If you do not have a 'strong mind' (thick skin) like Bobrisky, I would advise you to keep some aspects of your personal life to yourself."