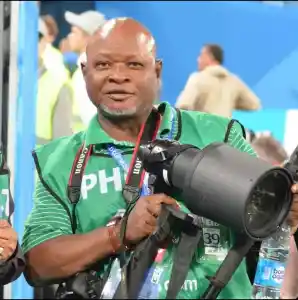 NUJ MOURNS DEATH OF VETERAN PHOTOJOURNALIST, FEMI ADEBESIN-KUTI
Read Time:
1 Minute, 17 Second
The Nigerian Union of Journalis, Lagos State Council, has expressed their condolences to the family of the legendary photojournalist Femi Adebesin-Kuti who passed away on Friday after a brief illness.
Kuti, who up until his death served as the photo editor for the Guardian newspaper, reportedly passed away early on Friday.
The NUJ Lagos chairman, Adeleye Ajayi, expressed sympathy to the deceased's family and the Photojournalist Association of Nigeria in a statement.
The statement read in parts, "We received the sad news of the passing of our dear brother, Femi Adebesin-kuti, Photo Editor of the Guardian Newspapers which occurred in the early hours of today with great shock.
"We pray that God in his infinite mercy will uphold and stand by his immediate family and friends at this trying time as we sympathise with members of the Guardian Newspapers Chapel and the entire PJAN family.
"May God continue to protect the rest of us and show up for us in our time of need."
Other journalists also mourned Kuti on their respective Facebook pages.
Sunday Adedeji said, "What is in this life? The word of God says, 'Everything is vanity!' Femi Adebesin-Kuti, is a friend, colleague, hardworking, and always fun to be with. But we can't question God's decision to recall you home.
"Until his untimely departure early this morning, Femi Adebesin-kuti was the photo editor of GUARDIAN Newspapers. May his soul rest in peace! And may our Lord give his wife, children and family the fortitude to bear this irreparable loss."
0
0
By 'Leke Yusuf Govt takes measures to stop truck accidents The Lagos State Government commiserates with the families who...