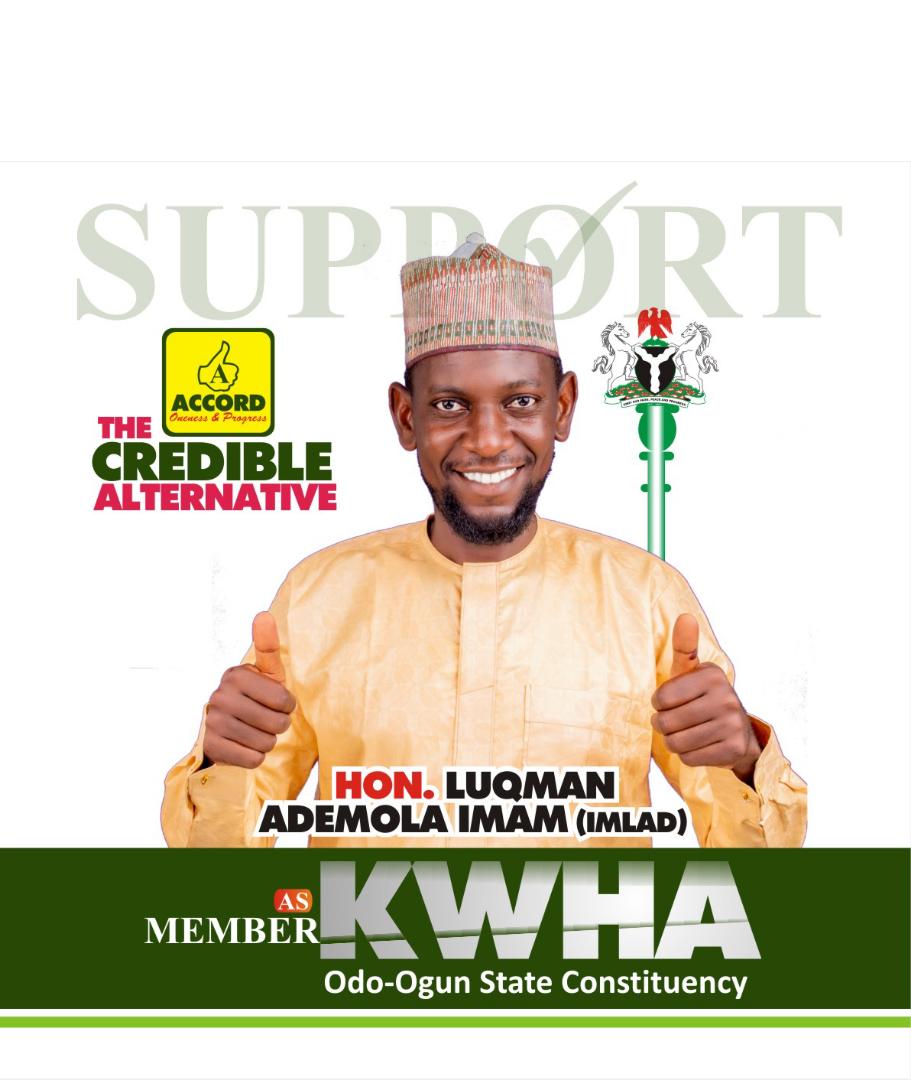 I WILL BRING GOOD GOVERNANCE CLOSE TO ODO OGUN CONSTITUENCY – IMAM
Read Time:
2 Minute, 26 Second
Farouq Oduola A.
Luqman Ademola Imam (IMLAD), a candidate for the Kwara state house of assembly from the Odo Ogun constituency, has pledged to improve access to good governance for constituents.
In an exclusive interview with hotjist.com, Luqman made this statement, outlining some of the major areas of his administration ahead of the impending general elections.
Contesting under the banner of Accord Party, Imam promised a representation of purpose that will ensure the constituency's fair share of good governance.
Being a "local breed" himself, Imam insisted that he's determined to be a "vehicle for social engineering, reconstruction, and proper direction of our constituency, to effectuate deliberate, visible, heeding as well as a result-oriented representation."
"I shall not only attract meaningful projects but sponsor, promote and vie for bills that will not only protect the interest of this constituency but also make Odo-Ogun a positive reference point."
Imam stated that he "knows where the shoe pinches" in regard to the problems his constituency is facing as he has never been far from the Odo Ogun Costituency.
The former National Secretary General of Erin Ile Students Association then requests to be given "a chance to not just represent the people of the costituency but to protect their interests."
Imam, an advocate for student and youth movement, is a founding member of the Erin-Ile Youth forum as well as the DG of the Erin-Ile Social Intellect Club.
On agriculture, Imam stated that he is aware of Odo Ogun constituency's immense contribution being one of the major food-producing communities in Oyun L.G.A. He however is not satisfied with the state of the farmers who "toil and toss over the years, with little or nothing to show for it" and insists on finding effective solutions to their challenges.
IMLAD also revealed his plan to "improve and diversify the economic system of the constituency. I will also make it a serious point of duty to sponsor bills that facilitate business training, and quality empowerment schemes to ameliorate the problem of unemployment raging among promising youths of the constituency."
He also spoke on developing the sports sector of Odo ogun constituency. "There's a huge project that will have a lot of snowball effect on our constituency. This will help engage our teenagers and youth productively, reduce the crime and drug abuse rate, put our communities on the map, as well as put money in the pockets of youths."
Having served as head of the infrastructural unit of Kwara youth centre under the current administration, Imam said he discovered that the constituency is far behind in terms of Information and Communication Technology and his administration intends to make the communities an ICT hub.
"We need to boost our involvement in technological advancement, we will be introducing coding, programming, animation, and graphic design as part of extra-curricular activities for the secondary school students within the constituency."