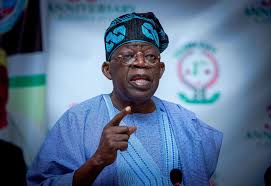 OPINION: LET'S GET IT RIGHT WITH TINUBU
Read Time:
5 Minute, 35 Second
Thinking of Lagos State and the influx of different citizens from different states across the country, you will agree with me that no state in Nigeria has received such enormous number of migrants than Lagos.
Interestingly, foreigners are not left out, if you take a survey of Lagos residents; you will be amazed that different African communities exist in Lagos and most of them are illegal immigrants.
The question then is, what makes Lagos so attractive to these people?
Research shows that Lagos is a land of dreams where you could come in with a cellophane bag in March and leave with a collection of boxes in December of same year.
No wonder Lagos is regarded as land of dreams, yet the so called elites are quick to say they have done nothing to improve the infrastructure in Lagos.
I remember the heaps of refuse that lined the streets of Lagos pre-1999, wasn't that what led to the introduction of LAWMA (Lagos Waste Management Authority)?
A quick look political offices and appointments; you can attest to it that Tinubu's government broke the barriers of ethnicity making room for all Nigerians to be a part of government in Lagos. This was at a time that you would only find names of indigenes on the list of commissioners and political office holders.
At a time when all Nigeria needs is a man who has worked and continue to bond with all Nigerians, Asiwaju Bọlá Ahmed Tinubu remains the only credible candidate that ticks the mark.
A little over 24 years ago, Tinubu said; "I have come to change the story. We will develop education, health, security, and empower youths and women to make Lagos work for all".
Tinubu's exemplary leadership style came to fore with the one day governor initiative.
Ebuka Anisiobi, one of the beneficiaries hailed from Anambra State, South Eastern region of Nigeria, but grew up on the streets of Lagos, Maryland, in Kosofe LGA where his parents had sought greener pastures.
Despite being a 'non-indigene,' he became the first ever one-day governor and the youngest in Nigeria after winning a spelling bee competition organised by the former governor's wife Senator Oluremi Tinubu for secondary school students in 2001.
"Despite my ethnicity and religion, Asiwaju and Senator Remi Tinubu gave me the chance at education and leadership through the spelling bee competition and One-Day Governor initiative," Ebuka said in a sensational video account on social media in August 2022.
"After winning the One-Day Governor Program, I got a scholarship for further education", Ebuka added.
"Today, I have worked in various organisations in the oil and gas industry, and consulting industry, and I am also an entrepreneur. I owe all this to the belief that was placed in me singularly on that fateful day in June 2001."
Let's go down memory lane quickly to see some of those things Tinubu did to earn that special pride of place. See below;
Power: Tinubu's government, in 2000, contracted AES to build an IPP that will generate 270MW of electricity to Lagos residents in order to exit the irrational power supply being provided by the FG. The 270MW is now part of our national grid. It is the first of it's Kind. Tinubu electrification project covered over 100 communities. In his first term, 53 rural communities were targeted. The projects were completed in Egan, Atewolere, Ifesowapo, Aboru, Agbado Ayetoro, Akorede, Isheri Ikosi, Orile Aguntan, Rofo, Borokini, Omologbede, Araromi, Oke Agbo, Erekusu, Logberu, Okegelu and Ebute, Lekki. Others were Origanringan, Onigbolakowe, Oke odo Elemoro, Ipaja Isale odo, Agenuba, Ajelogo, Mutaku, Egansando, Ayanfe, topo and Ikola Agbenaje.
Decentralization: In order to bring governance closer to the people of Lagos state, Asiwaju created extra 36 LCDAs which led to the disagreement between Lagos and the OBJ led FG. They are still working till date. Nigeria needs someone who believes in this!
Economy: With an IGR of just over 600million naira when he took over, different initiatives which included the reorganization of the LIRS led to an unprecedented IGR of over 7billion monthly after 8 years, the sustainability of which has brought same to 57bn in 2022.
Health: Decentralization of the Health Management Board led to the creation of LASAMBUS, an ambulance management scheme, Hospital Services Commission and Lagos State Health Facility Monitoring and Accreditation Agency. In addition, policies such as "Roll Back Malaria", "Jigi Bola, Free Health Policy for children below 16 year and adults above 65 years are verifiable ones that stood him out then. The First of its Kind.
Infrastructure: Roads, Railway Roadmaps, Port Roadmaps, Housing Roadmaps. Hospital Roadmaps.
Investment: Lekki Free Trade Zone opened Lagos to investors and now several top companies/bodies have their headquarters there including the biggest consulate office of the USA. Lekki infrastructure company, Eko Atlantic.
Decentralization of the ministry of works and housing gave birth to the conversion of the housing department to a full fledge ministry which was charged with providing 500 units of houses yearly. This single move led to making the Lekki corridor the fastest growing real estate investment haven in Nigeria. Housing sector was opened to the private investors and Lagos became the highest destination for real estate investors in Nigeria.
EDUCATION: Payment of WAEC fee for students from all walks of life so far you live in Lagos. Several schools were built. The One-Day governor program started with the spelling bee competition.
First of its kind
SECURITY: The closest thing to state policing started in Nigeria under Tinubu, with RRS in 1999. The prisons reformation in order to curb activities of criminals, led to conversion of Ita Oko Prisoners Camp to a Youth Skill Acquisition Centre. Infact RRS is now the most performing police force in Nigeria. To make things work, he created the Lagos security trust fund where private sector come together to invest in Lagos security in conjunction with the government.
ENVIRONMENT: LAWMA, LASEPA, LWC, PUMAU, LASECA. All formulated by
Tinubu to tackle the issue of environmental decay in Lagos.
EMPOWERMENT SCHEMES: The creation of several agencies led to several openings in the government which led to jobs in LASTMA, LAGBUS, LASEWA etc. First of its kind.
PPP Initiatives: -Lekki Free Trade Zone PPP – Tinubu
-Eko Atlantic – PPP Tinubu
-Lagos state security trust fund – Tinubu
-Lekki infrastructure company – Tinubu
-Enron power project PPP – Tinubu
-LSPDC PPP – Tinubu
-Privatisation of Healthcare delivery ( Labs and diagnostic centers) – Tinubu
-Lagos BRT scheme PPP – Tinubu
-Lekki concession company PPP – Tinubu
Throw all these on the score sheet and pull all the other candidates together for comparison, honest comparison o! Tell me your best candidate after checking these achievements of Asiwaju Bọlá Ahmed Tinubu.