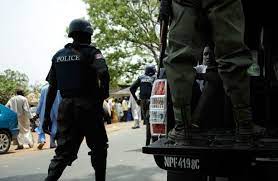 ONE PERSON DEAD AS POLICE, TRADERS CLASH IN ALABA RAGO MARKET
Read Time:
1 Minute, 31 Second
By Aishat Momoh. O.
One Person dead as a police officer fired gunshots at some sellers in the well-known Alaba Rago market in the Ojo Local Government Area of Lagos on Tuesday.
According to information obtained, police officers searched the market for a person to detain but were unable to find one.
The market was in a state of chaos as the authorities tried to grab "cell phones" from the vendors there.
Then, a policeman opened fire with his weapon directly into the throng, killing a trader in the process.
According to Ali Ibrahim Malami, the chairman of the Alaba Rago market traders association, police officers entered the market to make an arrest.
"The police came into the market to arrest a suspect, when they didn't see the suspect they started pursuing people. Then the officers began to seize traders' mobile phones, which the traders resisted.
"A police officer fired a gunshot directly into the crowd. The police officer was supposed to shoot into the air but he fired the gun directly into the crowd," Mr Malami said during a phone call.
Meanwhile, the Lagos State Police Public Relations Officer, Benjamin Hundeyin said in a tweet on Tuesday that an officer fired his weapon and killed a mob that attack officers in the line of duty.
He added that an investigation will be conducted for the police to unravel the incident.
"Policemen of Okokomaiko Division today went into Alaba Rago Market to effect arrest of a suspect but came under heavy attack from a large number of traders," Mr Hundeyin said.
"In a bid to tactically retreat from the armed mob attack, one of the officers fired his weapon, resulting in fatal injury to one of the attackers.
"A detailed investigation has commenced into the immediate and remote causes of the incident."