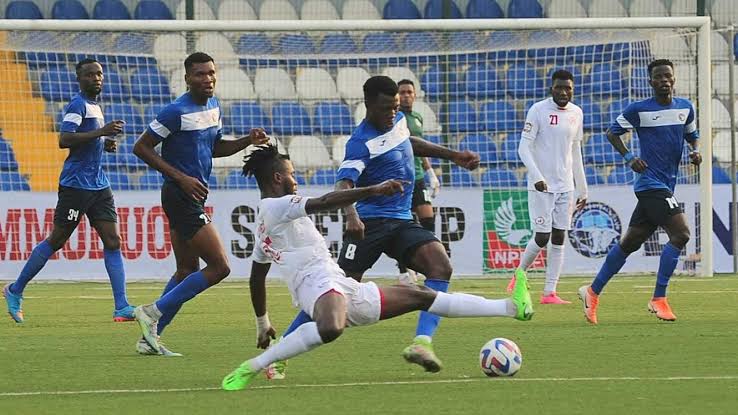 NPFL PLAYOFF: ENYIMBA, RIVERS GO JOINT TOP, FANS CONTEST WITH THRILLING SONGS
Read Time:
4 Minute, 54 Second
NPFL Championship Playoff: Supporters in a contest of Songs from the Stands
*Enyimba, Rivers go joint top
It's been a carnival like atmosphere from the stands opposite the VIP Box as colourfully attired Supporters of the six Nigeria Premier Football League (NPFL) Championship Play-off clubs try to outdance and out play each other in musical expressions.
There's the added flavour of the band of the neutral Nigeria Football Supporters Club in their all green and white attires blaring trumpets, drums and other acoustic devices that belted supportive songs, largely Christian motivational beats.
A flamboyant Enyimba troupe starts their day by draping a huge banner on the perimeter fence emblazoned with a huge elephant and the inscription "The People's Elephant". Behind the massive banner are their band members clad in the Enyimba dominant blue and a touch of white.
Bendel Insurance fans side is a splash of yellow tops and members who are on their feet for the duration of the game, chanting, hollering and dancing to inspire the boys on the pitch.
In larger numbers are the Sky Blue dressed Remo Stars band members who spread across the terraces with trumpets, bells and such other devices that produced deafening beats that almost drowns off the opposing club's band.
It is understandable why they're in Lagos in huge numbers with Ikenne, base a thirty five minutes drive to Lagos. Should their club stay in contention on the last day, expect more numbers.
Not to be outdone are the South-south musical notes from another all-blue side, Rivers United who turned up in significant numbers considering the distance from Port Harcourt to Lagos.
In addition to the generic Christian beats that has come to be identified with football supporters bands, the Pride of Rivers group distinguish themselves with far back tunes of Rex Lawson, a late musical icon from that part of the country.
Also in the mix are the Sunshine Stars troupe in their orange and blue colours. Despite their team not establishing a credential to be considered top runners, they guys with the songs and beats seem to seek to motivate them into the tussle.
You can't help but tap your feet, sing along and even stand to dance to the potpourri of football war songs. But here the stands remain peaceful, the atmosphere carnival like and the battle raging on the pitch.
And after MatchDay 2, it could be said that the race for season's Champions has significantly began.
At the Mobolaji Johnson Arena, Onikan, Lagos, the six teams, Bendel Insurance, Remo Stars, Enyimba, Rivers Utd, Lobi Stars and Sunshine Stars completed two games each on Monday, June 5 seeking six big points but none has been able to secure the maximum points.
On the opening day, a blockbuster of a game saw the spoils shared as Remo Stars forced Enyimba to a 2-2 draw.
Enyimba went in front first through Adiele Eriugo with his first ever NPFL goal but former NPFL goal king Junior Lokosa finished off a low cross from Lekan Adedayo to drag the Ikenne side level.
Obioma stepped up to restore the people's elephant lead after a foul on Chijioke Mbaoma by Nduka Junior
Remo stars leveled again in stoppage time to secure a point. Nduka's low free kick went beyond Bassa Djeri's wall into the bottom corner.
In the second game of the day, Ebube Duru scored from the penalty spot to hand the defending champions, Rivers Utd a 1-0 win over Sunshine Stars.
Bendel Insurance and Lobi Stars, under the lights couldn't cancel each other out as the game ended goalless.
When football fans thought the day one drama was enough, Remo Stars again produced a sensational game, this time, against Rivers Utd in Matchday two of the playoffs.
Nyima Nwagua gave the defending champions a first half lead as Remo Stars struggled to create chances in a rather average display from the Bet9Ja Boys who wore red on the day.
In what would proved to be a telling substitution, Junior Lokosa and Olamilekan Adams were introduced to the game by Coach Daniel Ogunmodede.
Adams found some space in the Rivers Utd box, passed to Lekan Adedayo whose shot went beyond a hapless Sochima Victor.
Following loads of intensity and attack by Remo Stars, Lekan would go on to get his brace as he fired home from outside the box to hand the Sky Blue stars a lead in the game for the first time in their two games.
The drama wasn't done yet as Rivers Utd dusted themselves while Remo Stars were still in jubilation mood and Lukman Adeyemi stabbed home after a defensive mixup in the box.
Silence in the Remo Stars half, players on the floor, Backroom staffs in disbelieve. That wasn't meant to happen but it did happen.
Earlier in the day, Chukwuemeka Obioma with his 16th goal of the season via a header helped Enyimba defeat Lobi Stars 1-0.
Divine Nwanchukwu's first half opener was cancelled out by Ekerette Udom after the hour mark as it was another draw in the day's final game between Bendel Insurance and Sunshine Stars.
With a win and a draw, Enyimba are top, same point (4) as Rivers Utd.
Remo Stars occupy the last continental spot (3rd) with 2pts while Bendel Insurance are 4th also with 2pts
Sunshine Stars occupy the 5th spot with Lobi Stars rock bottom, both team has just a point to their name.
A total of 12 goals have been scored at the Championship Playoffs.
Action will continue on Wednesday, 7th with three more matches as Bendel Insurance vs Enyimba gets the day's proceedings underway at 2pm.
Remo Stars will face off against Sunshine Stars at 4:30pm with the day being concluding with a Lobi Stars vs Rivers Utd engagement at 7pm.