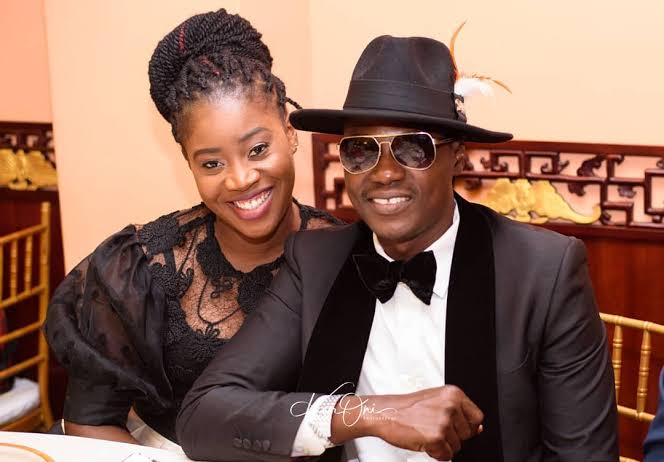 SOUND SULTAN'S WIFE WRITES HEARTFELT TRIBUTE TO LATE HUSBAND 
Read Time:
1 Minute, 39 Second
By Adeniyi Paul
Farida Fasasi paid tribute to her late husband, the famed singer Sound Sultan, in a moving statement on social media.
On July 11, 2021, the Nigerian musician died after a protracted fight with the rare illness Angioimmunoblastic T-cell lymphoma.
Two years after his passing, his loved ones, friends, and admirers have paid tribute to him on social media.
With a heartfelt message, his wife shared a video of the celebrity in his element—smiling, singing, and dancing—on Instagram.
"Today, I choose to celebrate you," Fasasi began in her caption. I've decided to uphold your legacy today. I decide to have fond memories of you. Omo Iseyin, who has a deep affection for his culture. My Iseyin man, tall and with black complexion.
She continued by mentioning their children, Zara, Mayowa, and Bidemi Fasasi, and noted how they still speak of their father as if he were still present.
"Aboo' is the affectionate name you called me," she remarked. It's interesting how they talk about you like you're still here, and our three adorable babies miss you so much. They still remember everything about you. Your siblings have been very encouraging, and they make every effort to prevent us from noticing your absence from our life; they also miss you everyday"
Her in-depth description underlined the singer's influence on society and the music business.
"Your legacy is still speaking for you, and I'm incredibly pleased and grateful to have been a part of your life, in her words. Every day, Lanre, I miss you and the kids. May Allah continue to provide you ajanafidausi and blessings, and may you continue to enjoy supreme supremacy. Amin."
African music icon Tuface Idibia also shared a message on Instagram in memory of his pal. He shared old pictures along with the remark, "MournUTillEyeJoinU. #WARRIOR, #ANGEL#ONELOVERELIGION#OLANREWAJUFASISI#LEGENDS NEVER DIE."
May the departed continue to rest in peace.