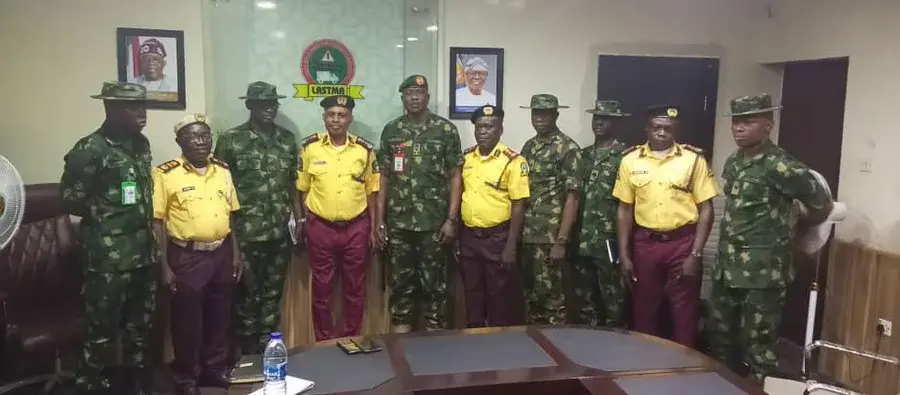 LASTMA, ARMY AGREE TO STRENGTHEN PARTNERSHIP ON TRAFFIC MANAGEMENT IN LAGOS
Read Time:
1 Minute, 52 Second
……Army promises support for activities of LASTMA
Officials of the Nigerian Army and employees of the Lagos State Traffic Control Authority (LASTMA) have decided to expand their collaboration on traffic control in Lagos.
During a working visit by representatives of the 9 Brigade Command of the Nigerian Army under the command of Brigadier General Adegoke Moses Adetuyi, Bolaji Oreagba, the general manager of LASTMA, revealed this.
While receiving the military men, Oreagba stated that it was an honor to meet the command officials at the LASTMA Headquarters in Oshodi.
Speaking about the tragic incident involving the altercation between a LASTMA official and a soldier, Oreagba maintained that there was no acrimony between the two sister agencies and that LASTMA personnel would continue to depend on constant support from the Nigerian Army and other security agencies throughout the state.
We won't "abuse the relationship" or "take the cordiality and warm friendliness that has existed between the Army and LASTMA for granted," according to Mr. Oreagba.
He insisted that such an incident wouldn't happen again since the two agencies would continue to use their current channels of communication and explore new ones in order to constantly find solutions.
Earlier in his speech, Brigadier General Adegoke Moses Adetuyi, Commander of the 9th Brigade of the Nigerian Army, stated that bad elements thrive when there is discord among security agencies, calling for more cordial cooperation and maximum cooperation between all government agencies, including LASTMA.
Bridgadier Adetuyi praised the fantastic work being done by LASTMA officials day and night and pledged that the Nigerian Army, in particular the 9 Brigade Command, would "continue to render support where necessary to LASTMA activities on our roads and ensure the safety of traffic managers in the discharge of their statutory duties."
Other army officers in attendance during the visit include Major A.A Nasir (OC MP), Major A. Sanusi, Major A.A Onwemene, Major A.K Ballo and LT T.H Owoyemi.
Also, LASTMA officials include Director of Operation, Mr. Peter Gbejemede, Provost Marshal; Mr. Apena Biliaminu, Head, Headquarters Operations (Rover) Mr. Adeoye James, Head of LASTMA Training; Mr. Macaulay Modupe-Ore, Head of Police Unit of LASTMA; CSP Ajibola Abayomi and Adebayo Taofiq, Director, Public Affairs and Enlightenment Department of LASTMA.