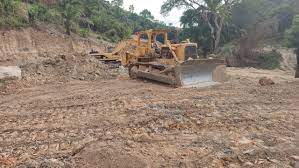 MOBILE COURT SEALS ILLEGAL MINING SITE IN TARABA
Read Time:
1 Minute, 30 Second
An unlawful mining site at Mayo Sina in Sardauna Council has been blocked off by a mobile court sitting in Jalingo, the capital of Taraba State.
This came after the court recently found seven people guilty of illegally mining in the state and sentenced them to prison.
They were found guilty, given a three-year prison term, and each received a large fine of N100,000.
Taraba State's Kefas government is working around the clock to prevent environmental deterioration and safeguard the local population.
The governor recently banned mining operations in the state and established a task force to carry out his order in an effort to protect the state's natural resources.
Some defaulting miners who were found guilty by a mobile court in Jalingo were recently arrested by the task force.
The suspects' illicit mining site was to be closed out, according to a court order.
Now that the court's ruling is being strictly enforced, the unlawful mining operation at Mayo Sina in Sardauna Council has been shut down.
Neirus Johnson, the special court representative, asserts that government operations will no longer be conducted as usual and issues a warning to those participating to stop or face the full force of the law.
Given the harm that illegal mining operations have done to the ecosystem, several locals are pleased with the governor's decision.
The head of the Sardauna local government applauds the governor for defending the area's ecosystem from pollution that could damage the locals much more.
At a stakeholders conference in Abuja, Governor Kefas Agbu provided additional context for his decision to impose strict regulations on all mining activity in the state.
The Kefas administration has taken a brave step thus far to stop the worrying rate of environmental deterioration by clamping down on mining activity in Taraba State.