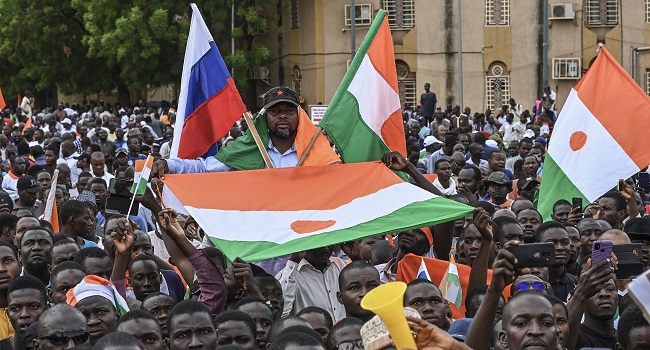 PRO-COUP RALLY IN NIGER AFTER MILITARY LEADERS WARNS AGAINST FOREIGN INTERVENTION
Read Time:
1 Minute, 24 Second
Several thousand people turned up in the Niger capital on Sunday to demonstrate their support for last month's military coup, whose leader has warned against outside intervention and proposed a three-year transition of power.
The demonstrators chanted slogans hostile to former colonial power France and West African regional bloc ECOWAS, which is considering a potential military operation to reinstate elected president Mohamed Bazoum if ongoing negotiations with coup leaders fail.
Although the Sahel state's new military leaders have officially banned protests, in practise those in support of the coup are allowed to go ahead.
The demonstrators waved placards saying "Stop the military intervention" and "No to sanctions", in reference to the financial and trade restrictions imposed by the Economic Community of West African States (ECOWAS) four days after the coup on July 26.
Sunday's pro-coup rally was accompanied by musicians praising the new military regime, AFP journalists reported.
The latest in a string of pro-coup rallies came a day after the new military ruler in Niamey warned that an attack on Niger would not be a "walk in the park".
General Abdourahamane Tiani also said in a televised address on Saturday that he did not wish to "confiscate" power and a transition of power back to civilian rule would not go beyond three years.
Niger's new leaders have accused France, a close Bazoum ally, of being behind the anti-coup stance taken by ECOWAS, which on Saturday made a fresh push for a diplomatic solution.
After ECOWAS chiefs of staff met in the Ghanaian capital Accra on Friday, the 17-nation bloc said it had agreed on a date for a potential intervention.