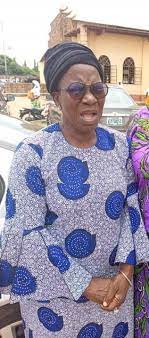 JUST IN: GUNMEN REPORTEDLY ASSASINATE RETIRED JUDGE IN BENUE
Read Time:
2 Minute, 3 Second
Margaret Igbetar, a former president of the Customary Court of Appeal in Benue State, was assassinated in Makurdi, the state's capital.
According to reports, Justice Igbetar was assassinated in her home at No. 1 Wantor Kwange Street in Makurdi, which is next to the Benue State University, BSU, School of Medicine.
According to a trustworthy source, she was killed by as-yet-unidentified individuals, and her body was found days later.
When this article was written, it was still unclear from the available information whether the retired judge who was discovered in a pool of her own blood had been shot or stabbed by her assailants.
An unnamed police source claimed that the retired jurist must have been killed by unidentified assailants.
The condition of her remains, he added, suggested that she had been murdered before her body was found on Thursday.
According to the source, the deceased's young son informed the police of the incident, and they arrived at the spot right away and made sure the jurist's dead body was taken away.
Yes, Justice Igbeta has been killed, he declared. Her deceased body was found in her home yesterday, August 24, 2023, although the corpse did not appear to be in good condition.
"What that meant was that it couldn't have happened that yesterday, Thursday, maybe a day or so before it was discovered and reported to the police."
He gave the assurance that the police were already looking into the situation to identify the murderers.
Additionally, it was learned that the 73-year-old jurist, who retired on October 17, 2015, led a reclusive life and was rarely seen in public before her passing.
Justice Igbeta, who was hailed as the first female lawyer of Benue descent, was embroiled in an alleged N800 million proxy bank account dispute in 2019.
In September of that year, the Independent Corrupt Practices and Other Related Offenses Commission, or ICPC, brought her before an Abuja High Court over an alleged proxy bank account she ran in the name of her housemaid that contained a set deposit of more than N800 million.
In order to prevent the loss of the stated fund, which it said was gained through illegal actions while performing her duties, the anti-graft agency asked the court for an interim injunction.
When contacted, Superintendent, SP, Catherine Anene, the police public relations officer, stated that she had not yet received all of the incident's specifics.