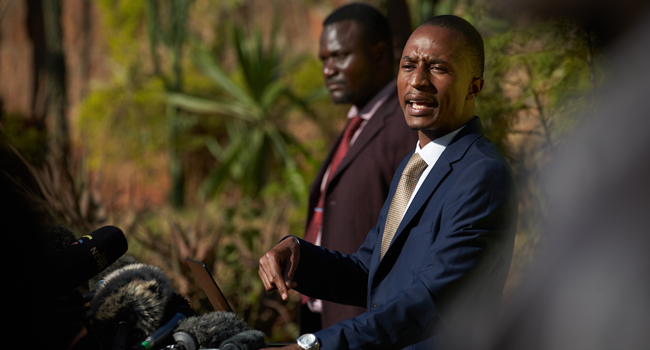 ZIMBABWE'S MAIN OPPOSITION PARTY CALLS FOR FRESH POLLS AFTER REJECTING 'ILLEGAL' ELECTION
Read Time:
2 Minute, 20 Second
The main opposition in Zimbabwe demanded new elections on Tuesday after Emmerson Mnangagwa defeated their candidate for president in a contest they criticised as being rigged and unlawful.
The African Union (AU) and the regional grouping in southern Africa were invited to assist in mediating a resolution to the situation that followed last Wednesday's vote by the Citizens Coalition for Change (CCC).
Ostallos Siziba, the deputy spokesman for the CCC, stated at a news conference in Harare that "Zimbabwe needs a fresh, broad, and proper election to exit the current crisis."
The Zimbabwe Electoral Commission (ZEC) declared the official results late Saturday. Nelson Chamisa, 45, of the CCC, received 44 percent of the vote, while Mnangagwa, 80, received 52.6 percent, winning a second term.
The vote, according to international observers, did not meet democratic requirements.
Voting was hampered by delays, allegedly brought on by the printing of ballots, which necessitated an extra day of voting, which was unusual.
The opposition declared victory but accused the election of being rigged and voter repression.
In response to criticism, Mnangagwa stated that the polling "demonstrated that we are a mature democracy."
He urged people who opposed his reelection to file legal complaints.
"Those who feel the race was not run properly should know where to go to," he said.
Siziba appealed for African help in finding a way out of the crisis.
"The solution lies in calling upon our African brothers and those in the region, particularly SADC (and) the African Union, to help us to facilitate, to meditate, to scaffold and more importantly to guarantee a process that will lead our return to legitimacy," he said.
The vote has been closely monitored throughout southern Africa as a test of Mnangagwa's ZANU-PF party's support. During his 43-year leadership, the party has faced accusations of tyranny and a stagnant economy.
The banning of opposition rallies, problems with the voter registration lists, biassed official media coverage, and voter intimidation were among the issues that observer missions from the European Union, Commonwealth, and Southern African Development Community (SADC) listed as concerns.
It was an unusual criticism from the 16-nation Southern African Development Community (SADC), whose observers typically support elections in the member nations.
However, a few members, including regional heavyweight South Africa, have since given Mnangagwa their congratulations on his reelection.
On Sunday, UN Secretary-General Antonio Guterres urged all sides to "peacefully settle any disputes through established legal and institutional channels" and resolve disputes "in a fair, expeditious, and transparent manner to ensure that the results are a true reflection of the will of the people."
The CCC did not rule out challenging the results in court, with Siziba saying the party was going to "employ all the necessary measures at the right time".
AFP