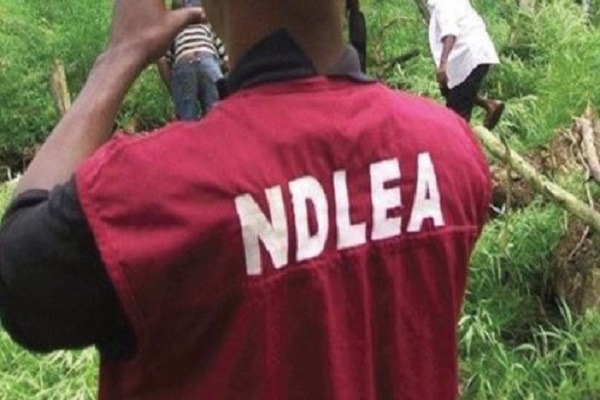 NDLEA ARREST DRUG KINGPIN RESPONSIBLE FOR RECRUITING FAKE COUPLE SMUGGLERS IN LAGOS
Read Time:
4 Minute, 31 Second
Ngene Emmanuel Onyedikachi, a drug lord who recruited phoney couple smugglers, was apprehended by the National Drug Law Enforcement Agency on August 1, 2023, in Lagos, while hard drugs in various forms were seized throughout the nation in various operations.
This was said in a statement published on the organisation's website on Sunday and signed by Femi Babafemi, the director of media and advocacy.
Recall that on August 6, 2023, a National Daily reported that members of the NDLEA had arrested the fake couples Ilonzeh Kingsley Onyebuchi and Ilonzeh Roseline Nonyelum for ingesting 184 wraps of cocaine weighing 3.322 kilogrammes and 100 grammes of the drug hidden in the woman's vagina.
In accordance with the statement, NDLEA agents detained Onyedikachi on Friday at his Akoka, Yaba, residence.
Babafemi said, "NDLEA operatives on Friday 25th August succeeded in arresting a drug kingpin, Ngene Emmanuel Onyedikachi, who recruited the fake couple, Ilonzeh Kingsley Onyebuchi and Ilonzeh Roseline Nonyelum arrested for ingesting 1.822kg and 1.50kg of Cocaine respectively at the Lagos airport on 1st August while on their way to India. The kingpin was picked at his residence located at 28 Afolabi Brown Street, Akoka, Yaba, after intensive surveillance that lasted 25 days."
He said that the suspect confessed that the fake couple were introduced to him by another member of his syndicate. Onyedikachi stated that he had fled India for Nigeria in 2022 after his identity was blown to the Indian authorities.
"During his interview, Onyedikachi confessed that the two suspects: Ilonzeh Kingsley Onyebuchi and Ilonzeh Roseline Nonyelum were introduced to him by another member of his syndicate, whom he claimed he met at Zion Church in the Cele area of Lagos. He explained that the drug was sourced from Guinea Conakry.
"The suspect revealed that when he got information about the arrest of the fake couple, he threw away his old mobile phone along with the SIM cards to avoid being traced, adding that he became relaxed and refused to leave his house because the two couriers do not know his house since they have only met twice at different locations. He said he was living in India before he returned to Nigeria in 2022 after the Indian authorities discovered that he was using Ivory Coast International passport. A blue Acura Legend car was part of items recovered from his home during his arrest", the statement read.
The agency also reported that it had detained other people for various drug-related offences across the nation, including Peter Iwebema, Ekechukwu Ndubuisi, Suleiman Babatunde Oba, Nafiu Arzika, Jamilu Aminu, and Ismaila Razak.
Iwebema was detained for cannabis sativa possession in the Ikorodu neighbourhood of Lagos State, whereas his contemporaries were detained at the Tincan port command.
"Operatives of the Lagos State Command of the Agency on Monday 28th August, arrested a suspect, Peter Iwebema, at Ikorodu with 79 and a half bags of cannabis sativa, weighing 864.5kg, their counterparts at Tincan port command intercepted 27 parcels of Colorado, weighing 13.5kg. The seizure was made from a container, MSMU 5664550 coming from Toronto via Montreal, Canada during a joint examination with men of Customs Service.
"Operatives of the National Drug Law Enforcement Agency, NDLEA, have intercepted various quantities of ephedrine, skunk and nitrous oxide, popularly known as laughing gas concealed in semovita packs and dry pepper being shipped to South Africa and Kenya through the Murtala Muhammed International Airport, MMIA, Ikeja Lagos by members of Transnational Drug Trafficking Organizations (DTO), some of who were promptly arrested, their mansions raided and their luxury vehicles seized."
Oba, who holds a South African passport, was nabbed while trying to board a Rwanda Air flight to South Africa on Friday with boxes loaded with ephedrine sealed in semovita packs.
"Through credible intelligence, NDLEA operatives on Friday 25th August intercepted a notorious drug trafficker, Suleiman Babatunde Oba who is a member of a cartel distributing Cocaine, Heroin, Methamphetamine and Ephedrine between Nigeria, Brazil, Ghana, South Africa, Mozambique, and Europe. He was arrested while attempting to board a Rwanda Air flight to South Africa with two boxes loaded with ephedrine sealed in semovita packs. The recovered substance is a precursor chemical and active ingredient in the production of methamphetamine.
"In his statement, Suleiman who holds a South African passport, is married to a South African lady and has lived there for over 20 years, identified Hakeem Babatunde Salami who equally lives in Lagos and South Africa as the head of the drug ring.
"A follow-up raid in the house of Salami located at 75 Wosilatu Dawodu Street, Ijesha, Aguda area of Surulere, Lagos on Monday 28th August revealed that he had fled the country on the same day Suleiman was arrested. However, a white Toyota Venza car with registration number LSR 410 HT, a Mercedes Benz SUV marked LSD 998HP, phones and vital documents needed for further investigation were recovered from the house."
Similarly, Arzika, Aminu and Razak were arrested in Sokoto state and Oyo state with different forms of hard drugs among which are skunk and methamphetamine on Tuesday and Saturday respectively.
"In Sokoto, operatives on Tuesday, August 29 arrested two male suspects: Nafiu Arzika, 30, and Jamilu Aminu, 35, with 330kg skunk, while another suspect, Ismaila Razak, 38, was nabbed with 34.5kg of same substance and 9.5 grams of methamphetamine on Saturday 2nd September at Olodo area of Ibadan, the Oyo State capital," Babafemi said.