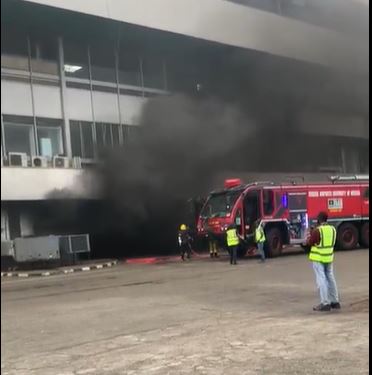 FIRE OUTBREAK AT MURTALA MUHAMMED AIRPORT LAGOS, FLIGHTS DELAYED (VIDEO)
An early morning fire outbreak at the Contol Tower of the Murtala Muhammed International Airport in Lagos has caused flight delays in and out of the airport.
Emergency services could be seen on ground putting out the fire.
In a statement by the Federal Airports Authority of Nigeria (FAAN), it said the fire started at about 7.23am, "a suspected electrical spark at the baggage hall ceiling caused the smoke incident that was reported at Terminal 1 of the Murtala Muhammed International Airport, located in Ikeja, Lagos. The source of the smoke was identified as burning litium inverter battery installation at the basement.
"Promptly responding to the situation at 0730hrs the dedicated firefighters from the Aerodrome Rescue and Fire Fighting Services (ARFFS) of the Murtala Muhammed International Airport and the Electrical Department of the Authority initiated immediate action.
"Their swift response and professional efforts have successfully brought the situation under control. In accordance with our unwavering commitment to the safety and well-being of passengers, staff, and all airport users, the Terminal building was promptly evacuated due to the smoke that had permeated some areas of the facility.
"We are pleased to report that the situation is presently under control."
1
0
Reports indicate that members of Sunshine Stars of Akure were attacked along the Ore-Benin Expressway on Thursday evening. Sunshine Stars...