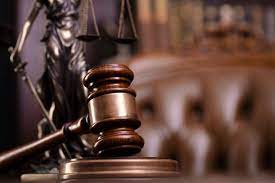 APPEAL COURT DECLARES NATASHA AKPOTI WINNER OF KOGI CENTRAL SENATORIAL SEAT
Read Time:
1 Minute, 10 Second
The Court of Appeal, Abuja, on Tuesday, declared the election victory of Natasha Akpoti-Uduagan of the Peoples Democratic Party (PDP) as the winner of the Kogi Central Senatorial election held in February.
The three-member panel, in a judgment, upheld the judgment of the state's election tribunal and dismissed the appeal filed by Sen. Abubakar Ohere of the All Progressives Congress (APC).
The court concurred with the meritorious plea of Akpoti-Uduagan's attorney, Mr Joshua Usman, SAN.
The appellate court also awarded the sum of N500, 000 against the Ohere.
According to the Nigerian News Agency (NAN), the Kogi State National and State Assemblies Tribunal ruled Akpoti-Uduagan the lawfully chosen candidate for the election on September 6.
The panel also invalidated Sen. Ohere's victory.
The Tribunal Chairman, Justice K. A. Orjiako, delivered the unanimous judgment of the three-man panel, revealing that Sen. Ohere's results were inflated in nine polling units in the Ajaokuta Local Government Area.
He added that the Independent National Electoral Commission reduced Natasha's results in those areas and omitted the results of three other polling units meant for Natasha in the same LGA.
Following the necessary corrections, the court declared Natasha as the winner of the election with 54,074 votes, surpassing Ohere, who garnered 51,291 votes.
But unsatisfied, Ohere approached the Court of Appeal seeking to upturn the election.(NAN)
0
0
Nigeria Premier Football League (NPFL) has sympathised with the Management of Sunshine Stars FC whose players and Officials were attacked...